FikusPlus 22: new and improved functionalities for maximum versatility
FikusPlus 22 adapts to the user's needs
The new version of FikusPlus has introduced important new features to offer its users a more versatile CAD/CAM, capable of tackling new challenges in a more productive way and to perform according to the preferences and needs of the machinist.
The new FikusPlus, faithful to the tradition of Fikus CAD/CAM solutions, is an easy to learn and use software, highly automated thanks to the automatic recognition of features that allows, with a single click, to detect all the elements and program their machining. It also maintains its efficient multi-process templates that allow jobs to be carried out with tested processes adapted to the user's preferences almost automatically, enabling an efficient system of continuous improvement.
With this new version, FikusPlus introduces new functionalities in its milling and wire EDM CAM to speed up the work, in addition to the outstanding features of its 3D solid CAD and its recent improvements in the handling of large files, the sketch mode or block recording.
FikusPlus22, CAD/CAM software for wire EDM and 2D and 3D milling
FikusPlus 22 for milling machines includes positioned 5-axis milling
5-axis positioned machining is a technique whereby a 3-axis milling program is executed with the cutting tool locked in a tilted position using the two rotational axes of 5-axis machines. It is also known as 3+2-axis machining.
This new 5-axis positioned milling module includes automatic feature recognition to automatically select all the elements to be machined in the geometry, such as pockets, slots, etc.
It also has an automatic drilling wizard that allows grouping and generating the necessary processes to perform all the holes. This function is especially useful for those who use multi-process templates, as the wizard can automatically apply the processes already defined to machine all similar holes in the future.
Automatic Feature Recognition for positioned 5 axis milling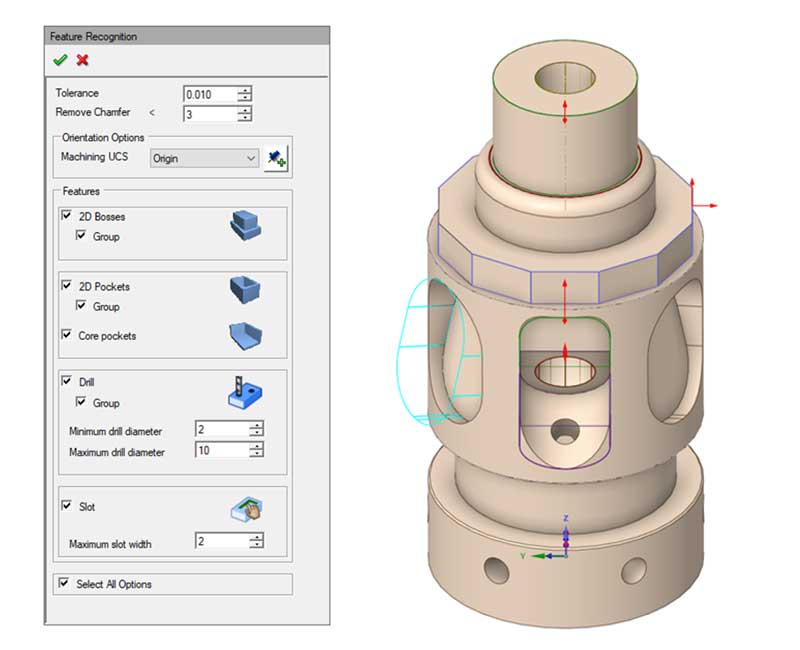 2D Milling
The 2D milling module incorporates a new tool table that allows to easily import the manufacturer's CSV file and to easily create and manage from the tool table all the groups for the realization of any type of milling profile.
Also added to the automatic feature recognition function is the detection of open pockets.
New customizable tool table

Advanced features and new possibilities for higher productivity in EDM
FikusPlus offers its users high productivity thanks to its high degree of automation, of which the automatic feature recognition function is a key element. This function is capable of recognizing almost any element to be cut, such as punches, cavities, open contours, cylinders, constant and variable taper, 2-axis and 4-axis type workpieces or land & taper collars.
In this version you can define a maximum size so that the system groups the elements to be machined according to this parameter and define a single entry for the machining of the entire group.
Phases to Geo & Geo to Phases optimization
The Phases to Geo & Geo to Phases function provides us the maximum flexibility to organize the machining processes allowing to increase the productivity by freely manage which processes are to be carried out without the need for operators to be present. Geo programming establishes an order in the machining processes based exclusively on geometrical reasons and path efficiency, but we can easily change this order to group processes that do not require the presence of operators at a later stage and thus increasing the productivity of our workforce.
Single input motion for elements grouped by the user

Geo to Phases-Phases to Geo function

Maximize material with the new Nesting feature
FikusPlus 22 incorporates the Nesting function for wire-cutting operations, which automatically organizes the job in a way that maximizes material utilization and optimizes paths to reduce manufacturing time and increase machine life.
Nesting function in FikusPlus 22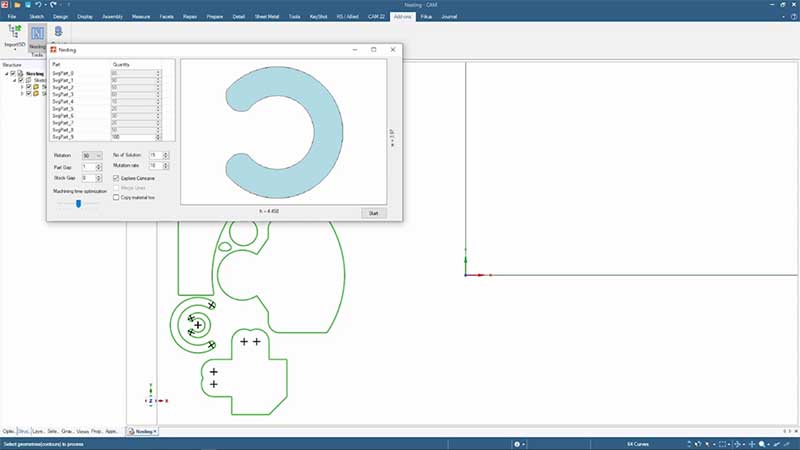 Rotary axis machining functions
FikusPlus 22 continues to expand its rotary axis solution. In this release the user can create rotary axis contours from existing geometries using the transformation function. An existing geometry, we can easily replicate it by modifying the angle and thus generate 3D contours for rotary axes.
The Spin&Burn function has been implemented and allows the use of lathe-like processes for manufacturing parts with wire EDM, which produces the cuts as the material rotates on the spindle.
Transformation for rotary axis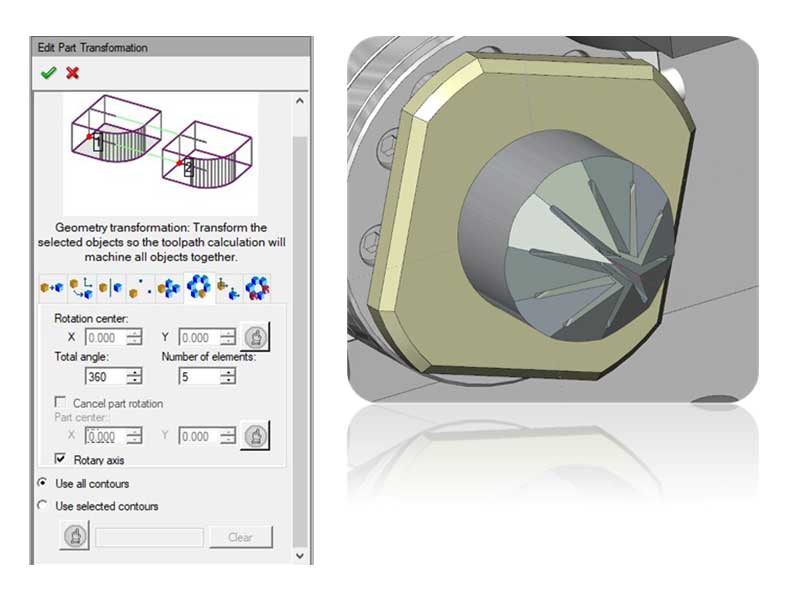 Other optimized features to improve quality and agility in EDM
There are innumerable aspects improved in FikusPlus 22, such as the working order in multi-geometries, with optimized paths, that increase the productivity.
FikusPlus 22 has a new rough stock process that provides greater security for complex parts when the wire has to be moved from one area to another to remove the excess of material.
A new type of roughing for open contours has also been implemented which allows us to forget about the cutting of remnants, simplifying the operator's tasks and saving time.
Another interesting new feature of this version is the possibility of enabling multiple entry movements. This new function is very useful when working with very hard materials or to enable several clamping points on the workpiece.
Definition and choice of outer contours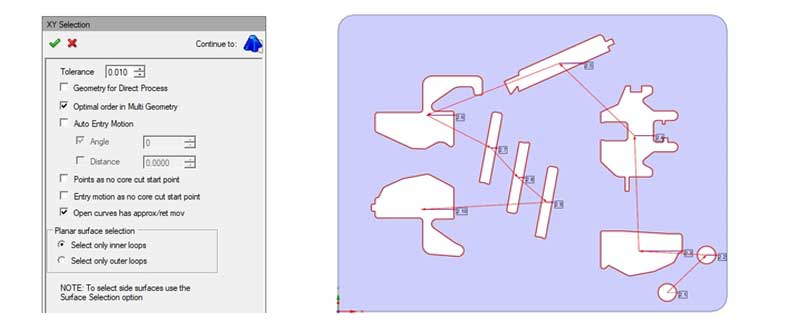 Improvements in the machining report
In the machining report, the user can now include additional and crucial information about the threading points and the corresponding angle. The new report will appear with five additional columns: U, V, A, Ax y Ay.
New machining report with threading and angle data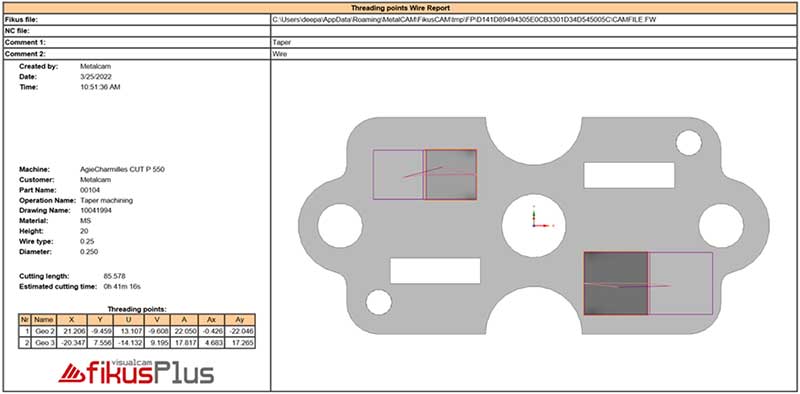 A more powerful and efficient solids CAD
FikusPlus' efficient 3D solids CAD incorporates important features to speed up design work.
The sketch option has recently been added to the design modes: Sketch, Selection and 3D Model. The construction of the sketch is very simple using the functions in the Sketch tab: Create, Modify, Restrictions and Edit.
Another important function is the Block Recorder which allows the user to easily edit the parameters and link the changes bidirectionally. This new feature captures step-by-step feature creation and editing, whether starting with a new sketch or adding features. Offers great flexibility for parametric design and allows users to control history-based technology to quickly edit the design.
New sketch option in CAD design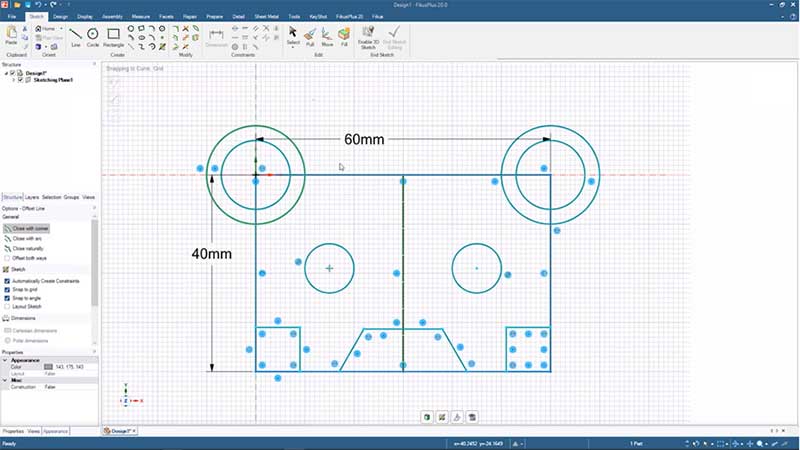 New functions that speed up work
Projection of contours on a plane
Contour projection allows us to project a 3D geometry onto a plane, which is a very useful feature, which is a very useful feature to simplify the work when working within a CAM environment.
Importing old g-code as ISO files
This is one of the most interesting new features. In many occasions we need to recover geometries from old machine programs, either to compare them with a CAD file or to modify and reuse them.
Now FikusPlus 22 allows you to import these machine programs as ISO files and work with them easily.
Projection of contours on a plane

Function for importing old g-code files