Innovations and improvements in FikusWorks 22
Increased versatility and automation of wire programming
Metalcam, with the new version of FikusWorks offers users greater versatility for the automation of wire EDM CAM processes, improving the workflow and allowing new levels of productivity to be achieved.
Among many other new features, it is worth mentioning the improvements introduced in Automatic Feature Recognition, which allows to define destructive features depending on the size of the geometry, with new options that allow to combine destructive features and cavity cuts in a very agile way.
Also included in this version is a powerful new option to apply an open destructive type to avoid the generation of remnants in open contours and even use this calculation for continuous rotary axis (Spin & Burn)
FikusWorks feature recognition can group elements by size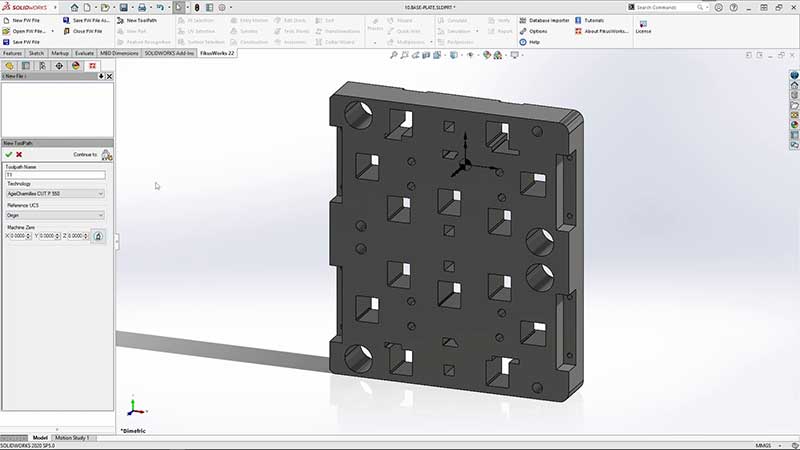 Advanced features and new possibilities for higher productivity in EDM
FikusWorks offers its users high productivity thanks to its high degree of automation, of which the automatic feature recognition function is a key element. This function is capable of recognizing almost any element to be cut, such as punches, cavities, open contours, cylinders, constant and variable taper, 2-axis and 4-axis type workpieces or land & taper collars.
In this version you can define a maximum size so that the system groups the elements to be machined according to this parameter and define a single entry for the machining of the entire group.
Single input motion for elements grouped by the user

Increases productivity by grouping tasks to be performed without operator control
Phases to Geo & Geo to Phases optimization
The Phases to Geo & Geo to Phases function provides us the maximum flexibility to organize the machining processes allowing to increase the productivity by freely manage which processes are to be carried out without the need for operators to be present. Geo programming establishes an order in the machining processes based exclusively on geometrical reasons and path efficiency, but we can easily change this order to group processes that do not require the presence of operators at a later stage and thus increasing the productivity of our workforce.
Geo to Phases-Phases to Geo function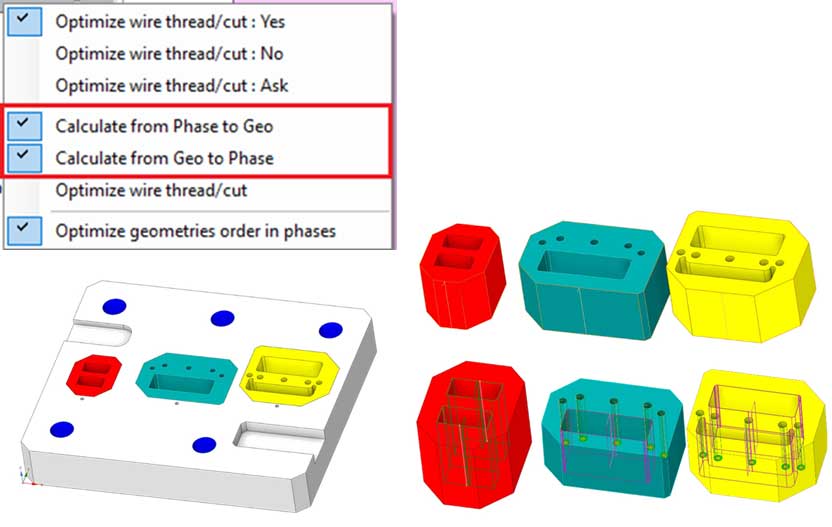 Other optimized features to improve quality and agility in EDM
There are innumerable aspects improved in FikusPlus 22, such as the working order in multi-geometries, with optimized paths, that increase the productivity.
FikusPlus 22 has a new rough stock process that provides greater security for complex parts when the wire has to be moved from one area to another to remove the excess of material.
A new type of roughing for open contours has also been implemented which allows us to forget about the cutting of remnants, simplifying the operator's tasks and saving time.
Another interesting new feature of this version is the possibility of enabling multiple entry movements. This new function is very useful when working with very hard materials or to enable several clamping points on the workpiece.
Definition and choice of outer contours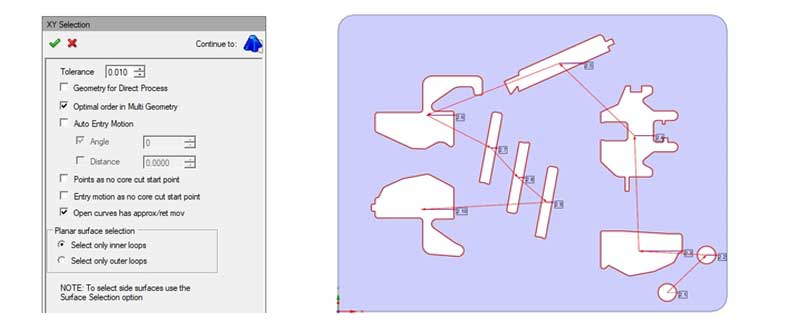 Several input movements can now be enabled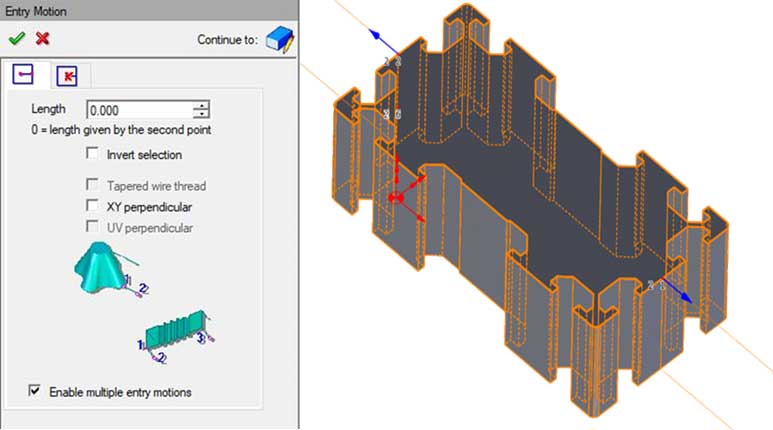 Improvements in the machining report
In the machining report, the user can now include additional and crucial information about the threading points and the corresponding angle. The new report will appear with five additional columns: U, V, A, Ax y Ay.
New machining report with threading and angle data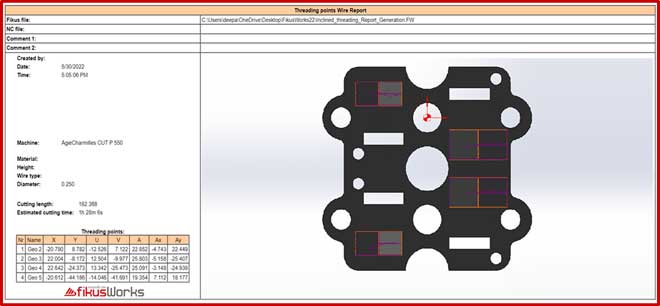 A complete solution for wire EDM, or an add-in for your Solidworks CAD
Complete solution
FikusWorks is available as a comprehensive CAD/CAM solution, in three different configurations to suit your needs:
SolidWorks CAD (parts-only) + Wire EDM CAM
SolidWorks CAD (Parts & Assembly) + Wire EDM CAM
SolidWorks CAD (Parts & Assembly & Drawings) + Wire EDM CAM
All the tools available in FikusWorks can significantly improve productivity and manufacturing time, such as specific machining wizards for different machines, templates, customizable databases or automatic technological points, which are available to make your work easier and more productive.
Machine technologies from manufacturers Like Accutex, ActSpark, GF Machining Solutions, Chmer, Fanuc, Hitachi, Joemars, Makino, Mitsubishi, ONA EDM and Sodick are implemented in FikusWorks with optimized technological tables and postprocessors. The programming wizards help to create the cutting sequence step-by-step and control all the machining parameters. Thus the Expert Knowledge helps to complete the programming process easily and efficiently.
Fully integrated add-in
FikusWorks 22 is also available as an add-in to integrate the best wire EDM CAM solution on the market into your Solidworks platform and start programming the machining immediately.
Once you have finished your CAD tasks, you can directly open the FikusWorks tab in the SolidWorks main menu and start working with the intuitive, easy to use and efficient FikusWorks CAM solution for wire EDM.
FikusWorks complete solution or fully integrated add-in in SolidWorks