The more advanced CAD/CAM for the shop floor
CAD/CAM that meets today's industry challenges
Fikus products have been developed to provide the industry with an efficient, highly productive, easy to learn and use CAD/CAM, that allow the shop floor machining operations to be programmed almost fully automatically, saving time and minimizing errors.
FikusPlus incorporates an intuitive 3D CAD of solids that allows workshops to integrate their work into production processes involving other workshops and engineering firms exchanging information quickly and extracting the geometries to be machined from complex 3D CAD files.
FikusPlus' powerful CAD allows you to import, create, repair or modify complex geometries quickly and easily, and to maintain fluid communication with your customers.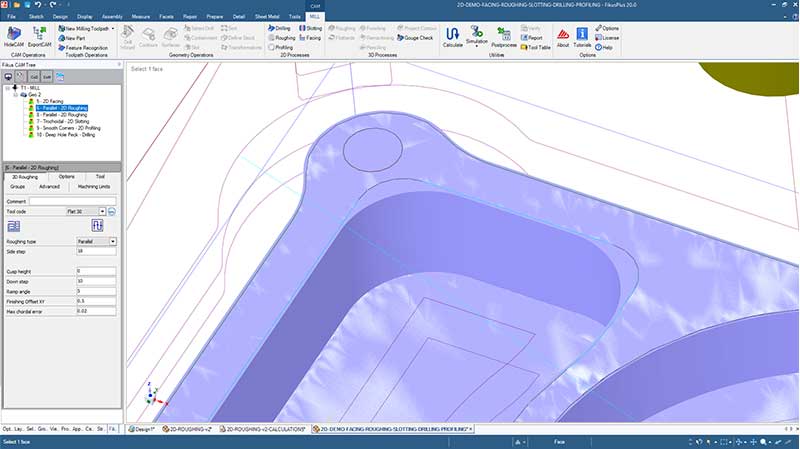 Powerful and faster solids 3D CAD for CAM programmers
FikusPlus brings 3D solid modeling to the desktops of engineers and CAM programmers, helping them to interact with CAD geometries in a new and exciting way and communicate quickly with colleagues, customers and suppliers.
FikusPlus CAD Key features
Creation and handling of solids and surfaces
Don't worry about where the file comes from
Edit, repair and create any geometry
Make changes on-the-fly
Spend less time struggling with geometry
Increase productivity by removing the CAD bottleneck
FikusPlus offers powerful tools to prepare geometry for CAM: Push, Move, Merge, Fill.... These intuitive direct modeling tools make it easy to get the job done without resorting to traditional CAD systems.
Efficient CAD for design and repair of parts and geometries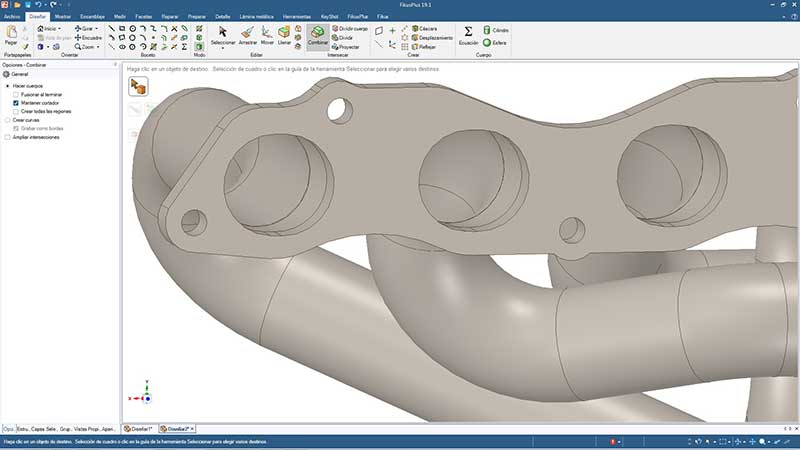 All the CAM power of Fikus for Wire EDM and Milling
The leading solution for wire EDM
Fikus is the leading wire EDM solution in the market. Incorporates multiple functions for easy programming of 2-axis and 4-axis cuts, including destruction. It is also possible to perform rotary axis processes or to extract the parts with ease thanks to the Auto-fix function. The quality of the Fikus wire EDM solution has led to its integration as a module in CAD/CAM programs from other developers.
FikusPlus wire EDM key features
Custs and no-core-cuts in 2 and 4 axes
Day/Night strategy
Automatic Feature Recognition
Realistic machine simulator
TBI
Autofix
Technological Wizards
Multi-process templates
30 years experience in milling
The FikusPlus milling CAM offers advanced machining functions for complex surfaces such as Advanced Finishing that allows the use of zig-zag, constant Z, constant cusp, spiral or radial penciling where previous tools could not enter.
More than 30 years of developing milling solutions enable FikusPlus to offer the most advanced milling strategies such as trochoidal roughing which reduces machining time and extends tool life or the 5-axis positioned milling.
FikusPlus Milling key features
Milling in 2, 2.5, 3 and 5 positioned axes
Automatic Feature Recognition
Drilling Wizard
Adaptative and Trochoidal roughing
Realistic machine simulator
Technological Wizards
Multi-process templates
Rotary axis machining options are available (Spin & Burn in the example)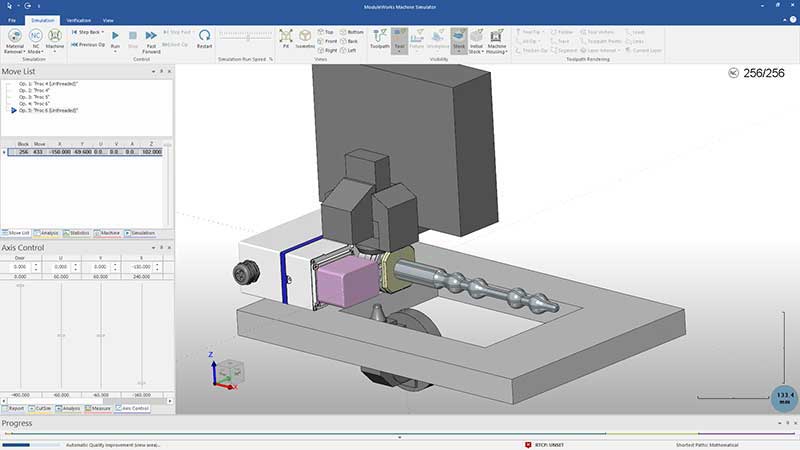 Automatic Feature Recognition in 5-axes positioned milling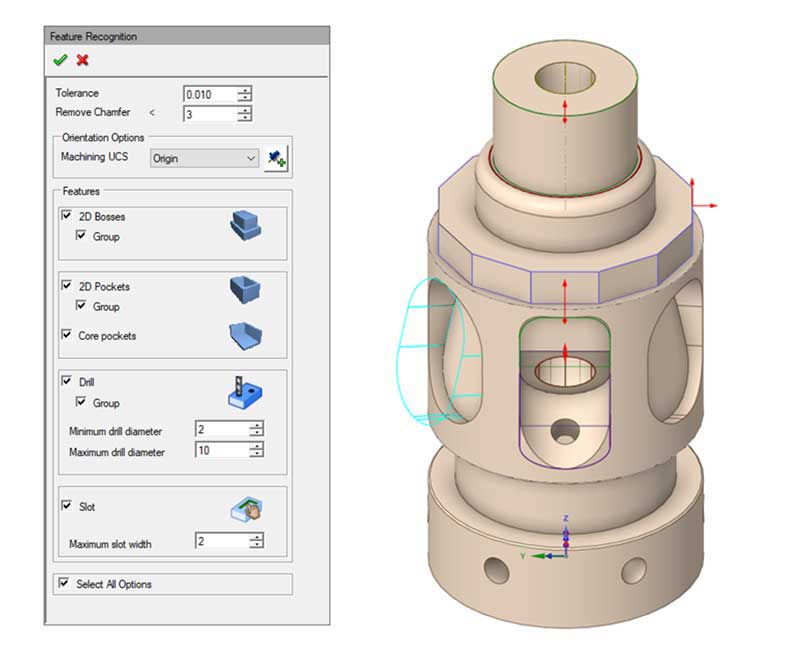 Optimal CNC programs for your machine in just three steps
FikusPlus is available for machining in milling and wire EDM technologies. In both cases, the FikusPlus CAM is characterized by being an intuitive solution, very easy to use and learn, and highly automated. It is only necessary to select the geometry, the processes or parameters, and to calculate.
A CAM manager guides the user through the logical sequence of the programming process, from the definition of the geometry and the creation of the part to be cut, to the process of defining and calculating the machining process.
Efficient technological wizards assist the user in this process ensuring optimal machining processes, adapted to the characteristics of each machine and type of work.
Constantly updated
Thanks to the cloud services provided by FikusCloud, FikusPlus keeps postprocessors and technological data permanently updated: updates of your wire EDM machines can be supported by your FikusPlus solution.
Dedicated wizards in wire EDM machining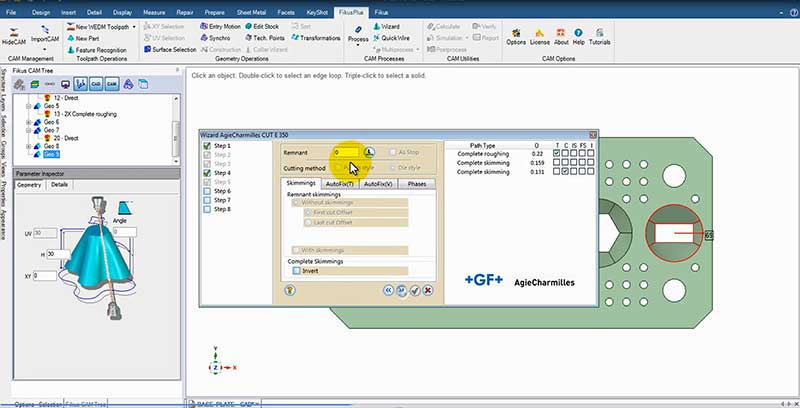 The automation profitability
FikusPlus, in both milling and wire EDM machining, includes the function Automatic Feature Recognition, that detects the different areas to be machined and programs them automatically, generating efficient processes.
The Drill Wizard detects all the drills, grouping them according to their characteristics, and programs their machining automatically and efficiently.
As FikusPlus solutions include customized technological tables for the different machines on the market, generates machine-specific CNC programs and no on-machine modifications are required.
Templates for optimum machining
If you have already defined and tested your best machining strategy for a part, you can save it as a template and use it in the future on similar parts. You will save time and avoid mistakes.
Wire EDM machining simulation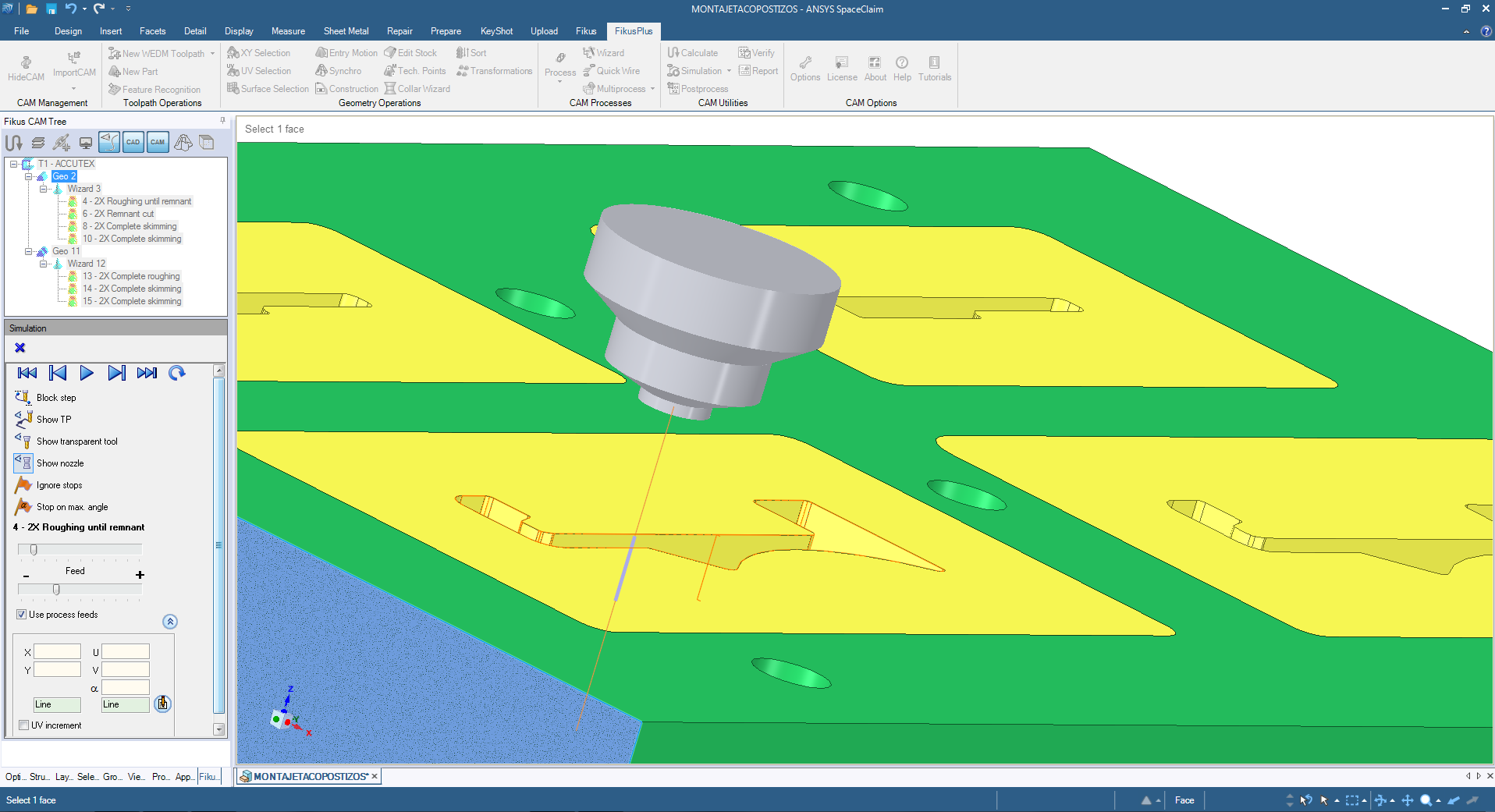 Only one program to work with all your machines
Every machine has been developed to fulfill a purpose and is for this reason that the postprocessors must been specifically developed for every machine. Our engineers have developed specific technological assistants and postprocessors that allows to the FikusPlus users prepare their machining in just seconds, easily and without errors.
The postprocessors are optimized to use the same language and all the technological possibilities of your machine (subroutines, machine cycles, etc.). As a result, they generate more compact and efficient programs, that get the most out of your machines without the need for on-machine modifications.
With Fikus you don't need to be an expert in the technology of all machines. Fikus is able to program them all.
Scalable
With Fikus you get an easy to use and learn solution, with specific technological developments for your machine. But also an advanced CAD/CAM; Fikus is easily scalable to meet the highest technological demands.
It also gives you the freedom to expand your park of machines and technologies without limitations, in the confidence that Fikus will offer you a common intuitive working environment with assistants specifically developed for each of your machines and technologies.
Service vocation
Fikus is more than a CAD/CAM program. At Fikus, the quality, proximity and immediacy of the technical service response is an integral part of the solutions we offer, such as the calculation algorithms, wizards or the CAM manager.
Specific wizards for almost all machines on the market