The market-leading wire EDM CAD/CAM software
In-depth knowledge of wire EDM technology
Fikus Visualcam is the leading innovator in CAD/CAM software for wire EDM machining because of its extensive experience in controlling this sophisticated and precise technology. Working for years together with the world's leading machine manufacturers has placed Fikus Visualcam at the forefront of CAM solutions to get the most out of your wire EDM machines.
Innovative solution with advanced functions
Fikus allows programming machining in 2 and 4 axes, including 4X pocketing. Fikus also allows rotary axis processes, such as the Turn and Burn Indexed function.
With Fikus a high degree of automation is possible thanks to the Feature Recognition function that recognizes all the characteristics of the elements to be machined. Even the wire threading is automatic.
Another outstanding feature is Auto-fix, which allows the part to be removed easily, with just a single stroke.
Auto-fix function for fast part removal
Promotion
Free eBook
Discover how to take full advantage
of your wire EDM machine
using a dedicated CAM software
Download here

Optimal CNC programs for your machine in just three steps
Fikus generates in just three steps CNC programs including all the technological data: select the geometry, enter in the Wizard the parameters for your job and calculate.
Fikus offers technological tables and specific post-processors for most of the machines on the market, allowing Fikus to generate optimal CNC programs for each machine and job type, so it is not necessary to make any modifications to the CNC program on the machine.
Permanently updated
Thanks to FikusCloud online services, Fikus keeps postprocessors and technology boards permanently updated: updates to your wire machines will be immediately supported by your Fikus solution.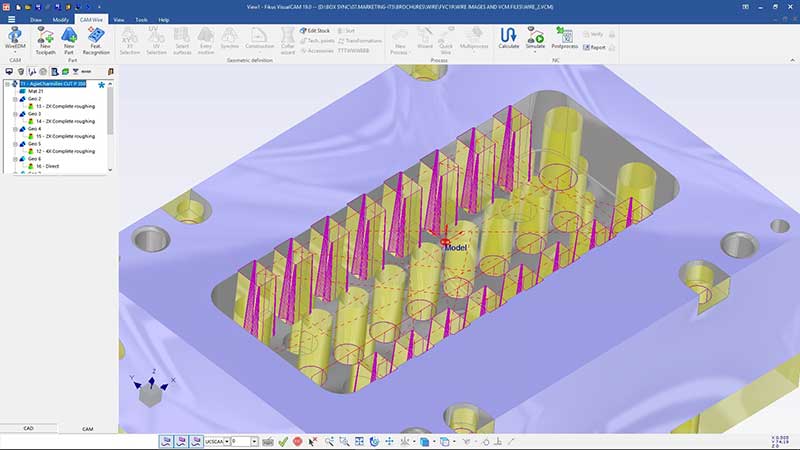 Efficient, automated and easy to use
Our engineers have developed Fikus Visualcam with the aim of reducing the number of steps users have to take to program a part. Each new version of Fikus for wire EDM simplifies programming in this complex technology to become fully automatic.
The CAM manager, which guides the user from the definition of the part to be cut to the creation, calculation and simulation of each cutting process, generates the most efficient machining processes.
The Automatic Feature Recognition function detects all "type" elements to be cut into a part with just a couple of mouse clicks.
The customizable templates allow you to save proven cutting strategies for future use on similar parts saving time and avoiding errors.
Feature Recognition video
New Solutions to increase Automation with +GF+ WIRE CUT Machines
Metalcam's and GFMS's research and development departments have been working in cooperation to offer a new series of modules for the AgieCharmilles CUT and VISION machines to increase automation and control in Wire EDM machining.
Know more about the new solutions to increase automation.
New Options for
Vision, CUT E, CUT P, CUT P Pro and CUT C
AB (Alignment Basic)
AR (Alignment Ranishow)
A3D (Alignment 3D)
ASM (Automatic Slug Management)
ASW (Automatic Slug Welding)
TBI (Turn then Burn Indexed)
Get the most out of your machines
Because not all machines work in the same way
Fikus has specific technological developments for each machine, because not all machines work in the same way.
Our engineers have developed specific technological assistants to allow Fikus Wire users to prepare optimal cutting strategies in just seconds, easily and without errors. Fikus taylored postprocessors will generate a detailed CNC program, with all the necessary data and parameters.
Machine-specific technological developments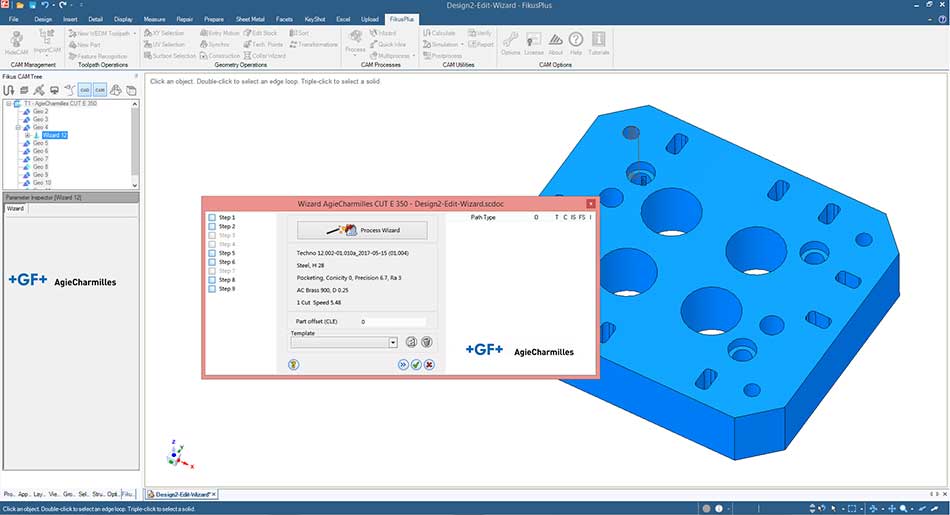 Only one program to work with all your machines
With Fikus you don't need to be an expert in the technology of all machines. Fikus is able to program them all.
Scalable
With Fikus you get an easy to use and learn solution, with specific technological developments for your EDM machine. But also an advanced CAD/CAM; Fikus is easily scalable to meet the highest technological demands (4-axis machining and destruction, rotary axis machining or processes automation) or to incorporate a 3D solids CAD.
It also gives you the freedom to expand your park of EDM machines without limitations, in the confidence that Fikus for Wire EDM will offer you assistants specifically developed for each of your machines.
Powerful CAD developed specifically for CAM programmers
Fikus Visualcam CAD software has been designed to meet the needs of a CAM programmer. You can easily create or modify any geometry. You can also import or export geometry to a wide range of different formats (IGES, STEP, Parasolid, SolidWorks, DXF, DWG or PLT).
3D Solids CAD or wireframe CAD, according to your needs
You can choose the CAD that best suits your needs, with the confidence that they will always include all the tools a CAM programmer needs: Unlimited undo/redo, gear creation, intelligent cutting, print preview and all the geometric functions needed to create and edit contours and parts.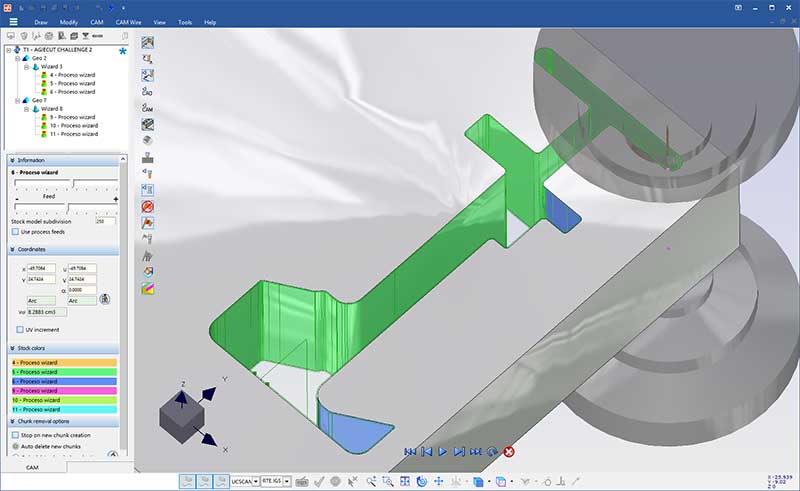 All advantages at Fikus for wire EDM
Fikus allows the user take full profit fron his investment in wire EDM machines to become competitive in a global market from the first minute.
It reduce the CNC programming costs due to its ability to reduce programming and preparation time in machine, the needed tests or training time.
Fikus allows to obtain the best quality and performance from the machines y reduce el riesgo de errores.
Advantages of Fikus for Wire EDM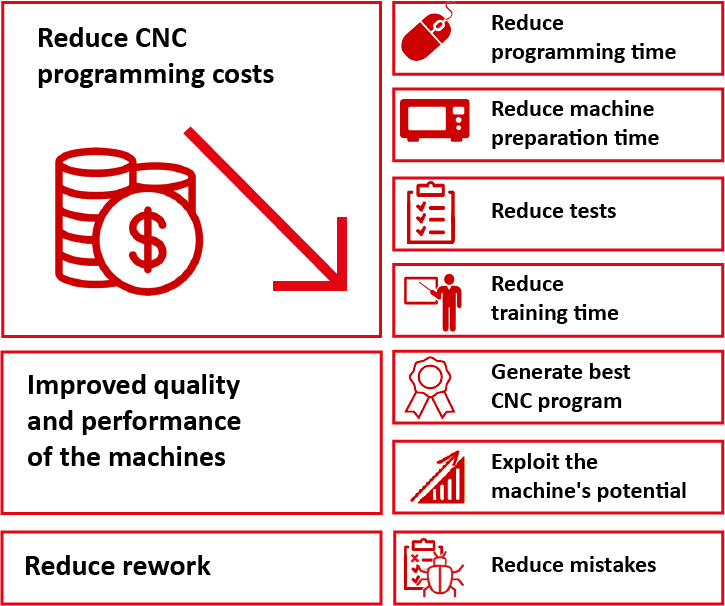 Download here the PDF brochure
Click here or on the image to read, download or print the PDF file of the Fikus ST or FikusPlus brochures.
Click here to access the brochures of all our products.