Fikus for production millturn and driven-tool machines
One programming environment for turning and milling tasks
Fikus for millturn allows to program easily and from a single intuitive work environment, all the lathe and milling works of the workshop, as well as to program the driven-tool machines.
If you are already a user of one of the Fikus solutions, you will be able to program milling and lathe jobs from the same CAD/CAM environment in a highly efficient way, with almost no need for a learning period.
In addition, you will have at your disposal the most innovative tools and wizards to perform complex jobs in a simple and efficient manner.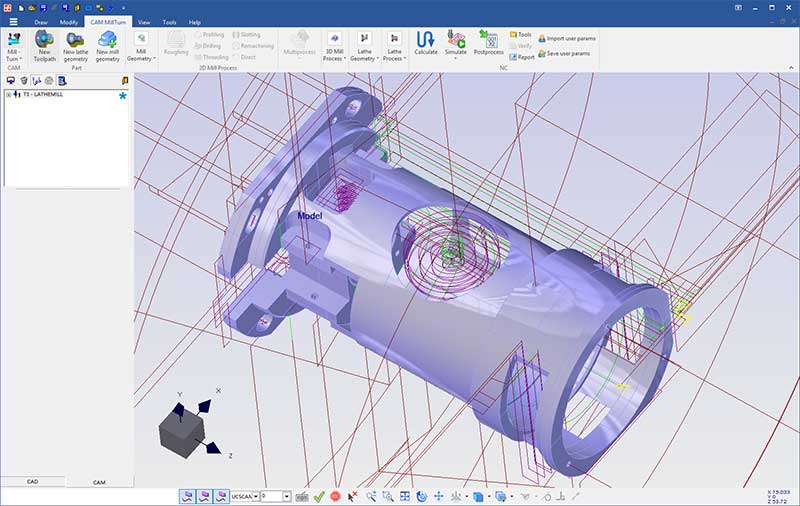 Automatic processes to improve productivity
The Parameter Table lets setting the values of parameters for each procedure and its lathe and drill Wizards will recognize all the different zones of the part and would apply the right procedures and defined parameters.
The Lathe Wizard automatically recognizes all the different zones of the part and apply the right procedures.
The Drilling Wizard automatically selects the drills and classifies them per their size and type.
The Automatic Feature Recognition function detects all areas to be milled and programs them automatically.
Performing multiple automatic milling, turning and drilling processes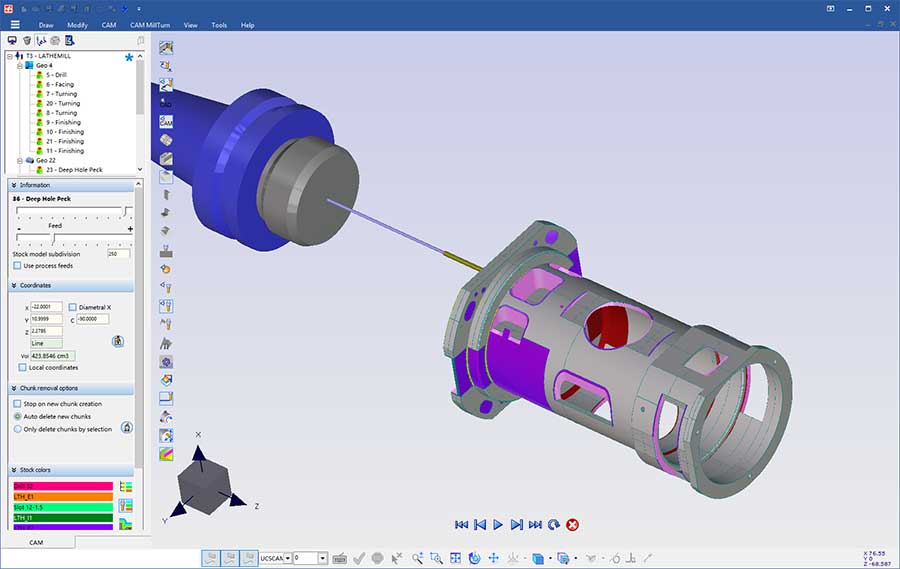 The solution for machining complex parts
Fikus allows to perform any work easily, even the most complex ones, thanks to the powerful tools available, both for turning and milling.
Complete lathe solution
Fikus has all the lathe processes available (Turning, facing, profiling, finishing, slotting, threading -also shaped threads- or cut-off) and 2.5D Milling procedures (Drilling, Pocketing, finishing) Frontal or side machining, C Axis continuous machining, C Axis positioning or Milling using X, Y, Z or X, Z, C.
Efficient 2.5D milling
The millturn CAM of Fikus includes a powerful 2.5D milling solution with all the procedures (Drilling, Pocketing, finishing), frontal or side machining, C Axis continuous machining, C Axis positioning or Milling using X, Y, Z or X, Z, C.
Lathe machining programation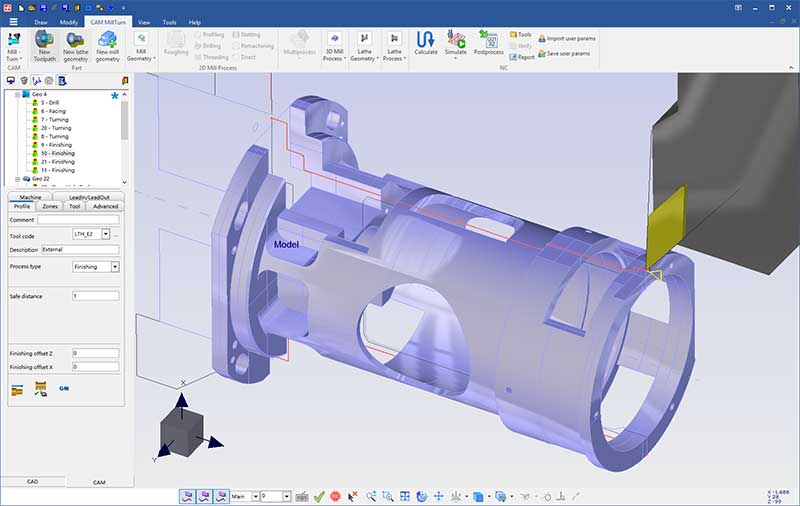 Highest performance and quality
Machining processes, whether obtained with the help of wizards or not, can be stored in multi-process templates and subsequently applied to program the machining of similar parts, saving time, avoiding errors and assuring final quality.
Fikus has a very efficient path manager. Thanks to machine-specific parameter tables Fikus generates machining programs optimized to the characteristics of each machine, obtaining the most efficient and productive machining processes for your machine.
Realistic simulation of a final part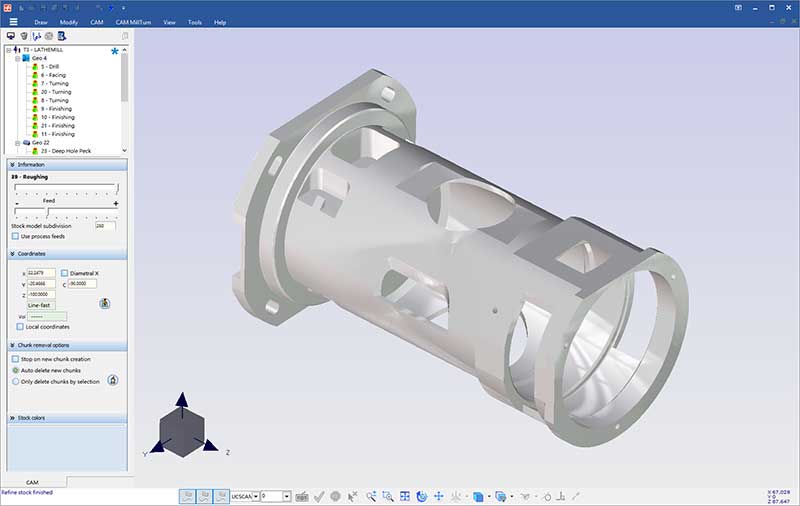 CAD designed for CAM programmers
The CAD module counts with a intuitive interface with all functions any CAM programmer would need: easy creation, import and repair or modification of geometries. Fikus CAD for millturn has multiple functions that allow you to easily extract complex contours from 3D files.
Powerful 3D Solids CAD optionally available
If you need to work with 3D models you can bundle Fikus for Millturn with FikusPlus Designer, the intuitive, quick and efficient Fikus' 3D Direct Modeling technology.
Milling machining simulation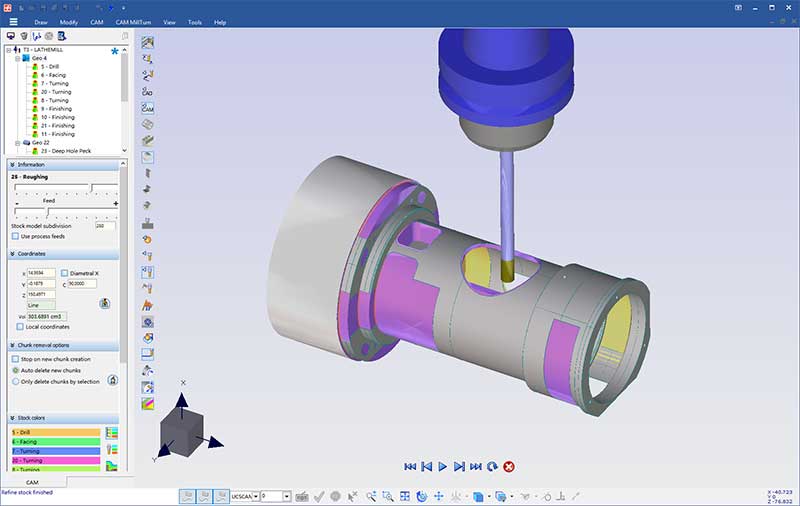 Only one program to work with all your machines
Every machine has been developed to fulfill a purpose and is for this reason that the postprocessors must been specifically developed for every machine. Our engineers have developed specific technological assistants and postprocessors that allows to the Fikus users prepare their machining in just seconds, easily and without errors.
The postprocessors are optimized to use the same language and all the technological possibilities of your machine (subroutines, machine cycles, etc.). As a result, they generate more compact and efficient programs, that get the most out of your machines without the need for on-machine modifications.
With Fikus you don't need to be an expert in the technology of all machines. Fikus is able to program them all.
Scalable
With Fikus you get an easy to use and learn solution, with specific technological developments for your machine. But also an advanced CAD/CAM; Fikus is easily scalable to meet the highest technological demands.
It also gives you the freedom to expand your park of machines and technologies without limitations, in the confidence that Fikus will offer you a common intuitive working environment with assistants specifically developed for each of your machines and technologies.
Service vocation
Fikus is more than a CAD/CAM program. At Fikus, the quality, proximity and immediacy of the technical service response is an integral part of the solutions we offer, such as the calculation algorithms, wizards or the CAM manager.