Leading solution for Wire EDM specifically developed for CUT series machines
The CAD/CAM that gets all the performance out of your +GF+ machines
ACcam.easy has been jointly developed by Fikus and GFMS technicians to get the maximum performance out of +GF+ Machining Solutions (AgieCharmilles) wire EDM machines.
ACcam.easy offers a flexible and complete solution, specifically designed to produce 2 and 4 axis wire-paths easily and quickly, using a wide range of innovative software tools to reduce programming time and increase productivity.
The AgieCharmilles Vision series, CUT E series, CUT P series, CUT P Pro series and CUT C series machine technologies are implemented with optimized technological tables.
Stock simulation with ACcam.easy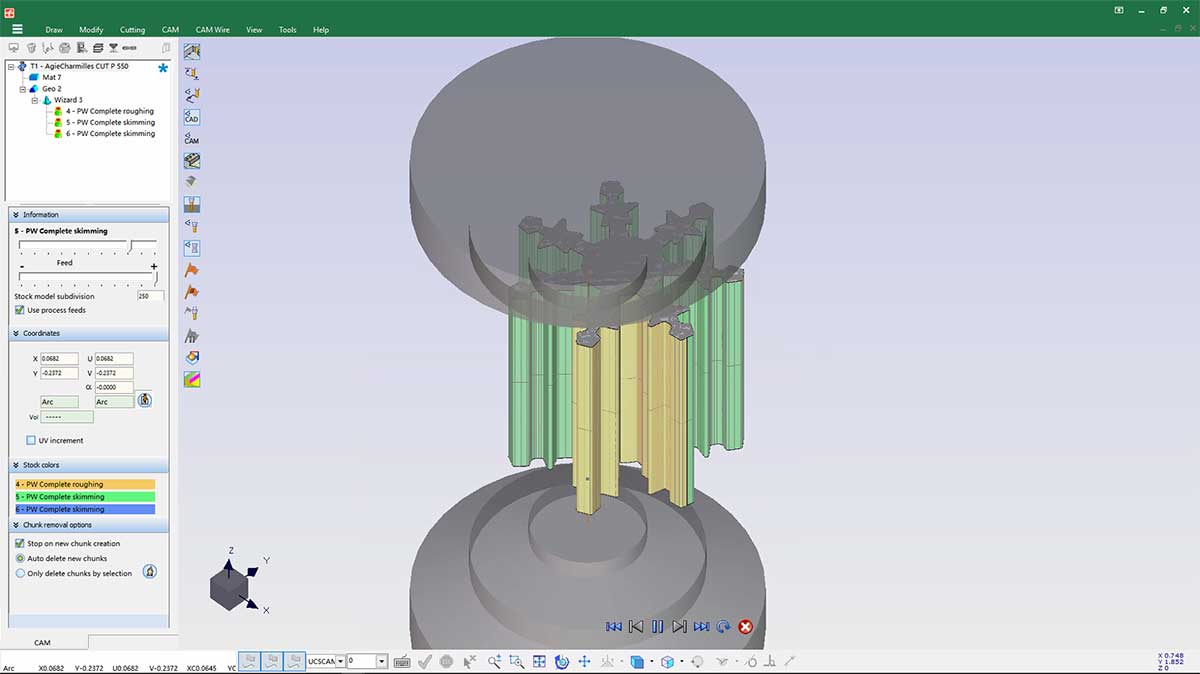 Key features of ACcam.easy
Reduce time-to-market and work hours drastically.
Shorten geometry construction and part definition efforts.
Program your AC Wire-cut EDM machine using the machine specific Wizard and technological databases.
Complete your job easily and safely and let ACcam.easy Wire EDM's Manager guide you through the whole and logical EDM process.
Take advantage of the most advanced wire path algorithms calculation for 2X to 4X cuts.
ACcam.easy offers the first commercial solution for 4X no-core-cuts.
Technology selection for a CUT series machine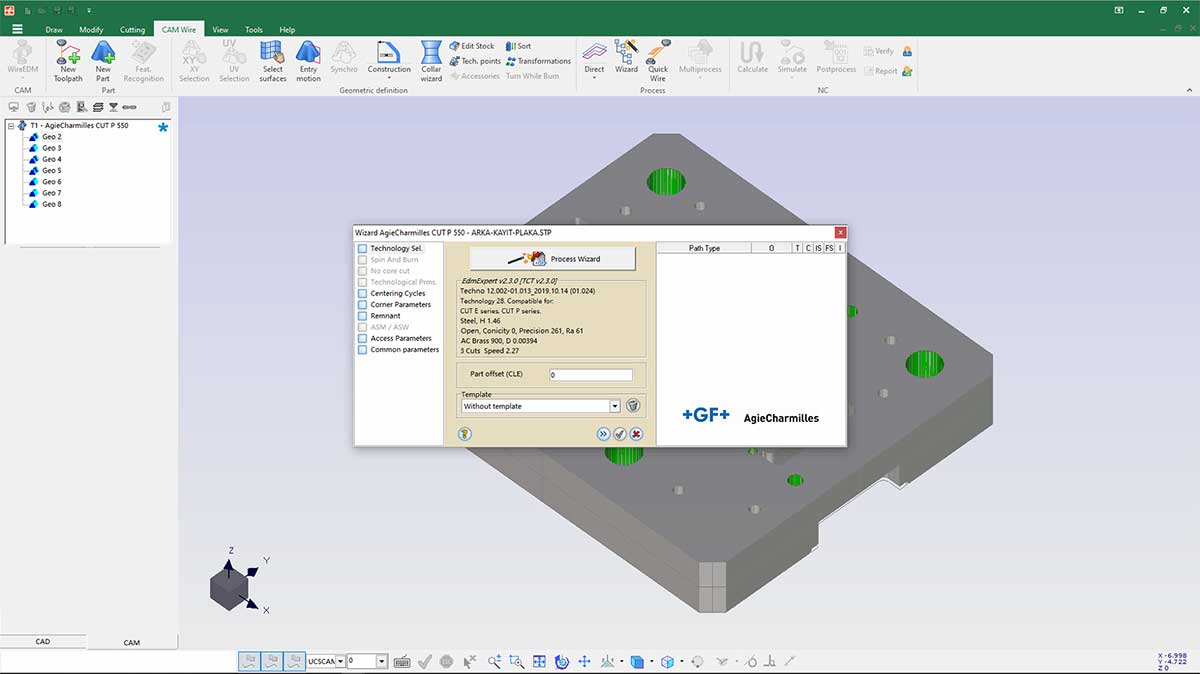 Innovative solution with advanced functions
ACcam.easy allows to program 2 and 4 axes machining, including pockets. ACcam.easy also allows rotary axis processes, such as the Turn and Burn function (TBI).
ACcam.easy offers other powerful tools, such as technological points, the possibility to modify corners and generate partial clearances, templates, simulations, verifications, reports and many other functions to make your work faster, safer and easier.
With ACcam.easy a high degree of automation is possible thanks to the Automatic Feature Recognition function that recognizes all the characteristics of the elements to be machined. Even the wire threading is automatic.
Powerfull tools incorporated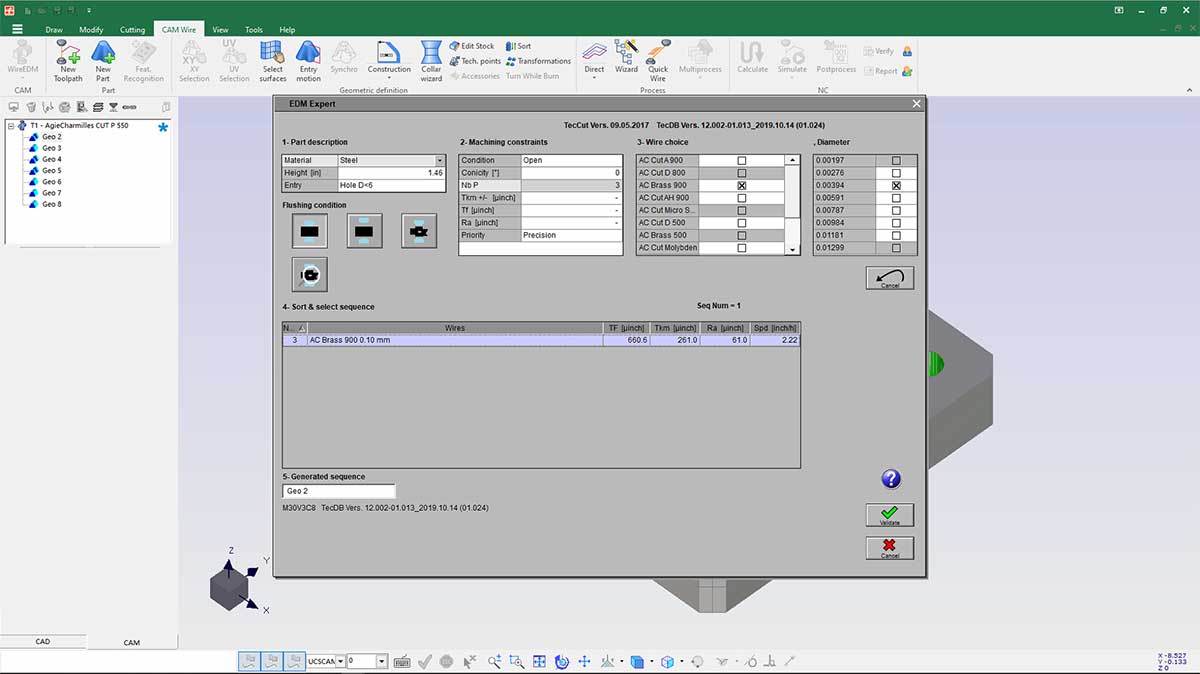 Specific CNC programs for your machine in just three steps
Specific wizards and technology databases for your +GF+ wire EDM machine allow you to perform your work in just a few seconds, easily and without errors, generating the optimal cutting strategies for each machine and type of work.
Thanks to the customized wizards, ACcam.easy generates CNC programs including all the technological data that do not need to be modified on the machine. And in just three steps: select geometry, enter the parameters for your machine and calculate.
In addition, they ensure you get the maximum performance and quality of your machines +GF+ Machining Solutions.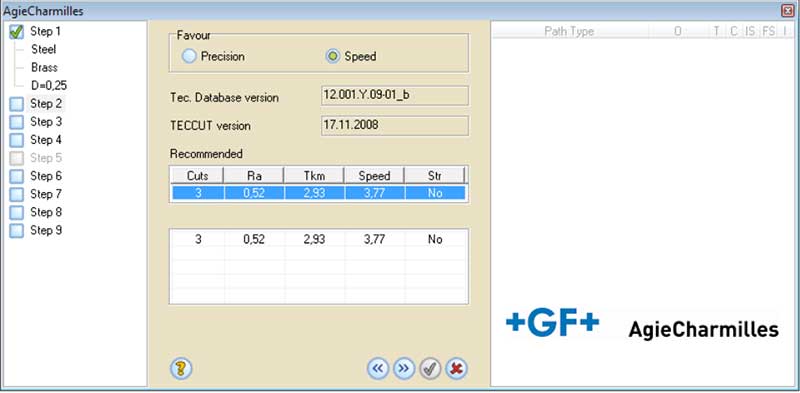 Efficient, automated and easy to use
Our engineers have developed ACcam.easy with the aim of reducing the number of steps users have to take to program a part. Each new version of ACcam.easy simplifies the programming of this complex technology until it becomes fully automatic..
The CAM manager, that guides that guides the user from the definition of the part to be cut to the creation, calculation and simulation of each of the cutting processes, generates the most efficient machining processes.
The Automatic Feature Recognition function detects all "type" elements to be cut in one workpiece with just a couple of mouse clicks.
The customizable templates allow you to save proven cutting strategies for future use on similar parts saving time and avoiding errors.
ACcam.easy with feature recognition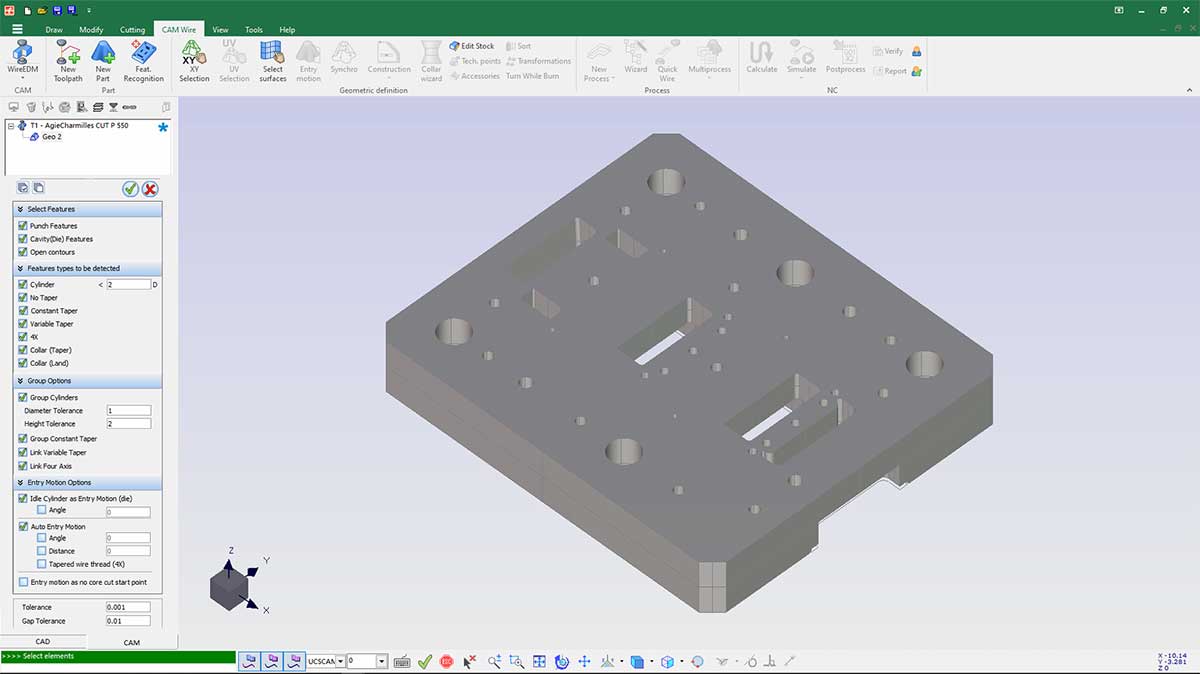 New Solutions to increase Automation with +GF+ WIRE CUT Machines
Metalcam's and GFMS's research and development departments have been working in cooperation to offer a new series of modules for the AgieCharmilles CUT and VISION machines to increase automation and control in Wire EDM machining.
Know more about the new solutions to increase automation.
New Options for
Vision, CUT E, CUT P, CUT P Pro and CUT C
AB (Alignment Basic)
AR (Alignment Renishaw)
A3D (Alignment 3D Setup Map)
ASM (Automatic Slug Management)
ASW (Automatic Slug Welding)
TBI (Turn then Burn)
CAD developed for CAM programmers
ACcam.easy incorporates a CAD developed to meet the needs of CAM programmers, with the capability to import, repair, modify or create any geometry easily, thanks to powerful functions:
Functions to generate wireframe geometry
Functions to modify geometry extract contours and work with surfaces
Create gears, rack gears, texts and dimensions
Use the 'fastedit' functions to quickly move, copy, scale and modify the geometry
Stock simulation with ACcam.easy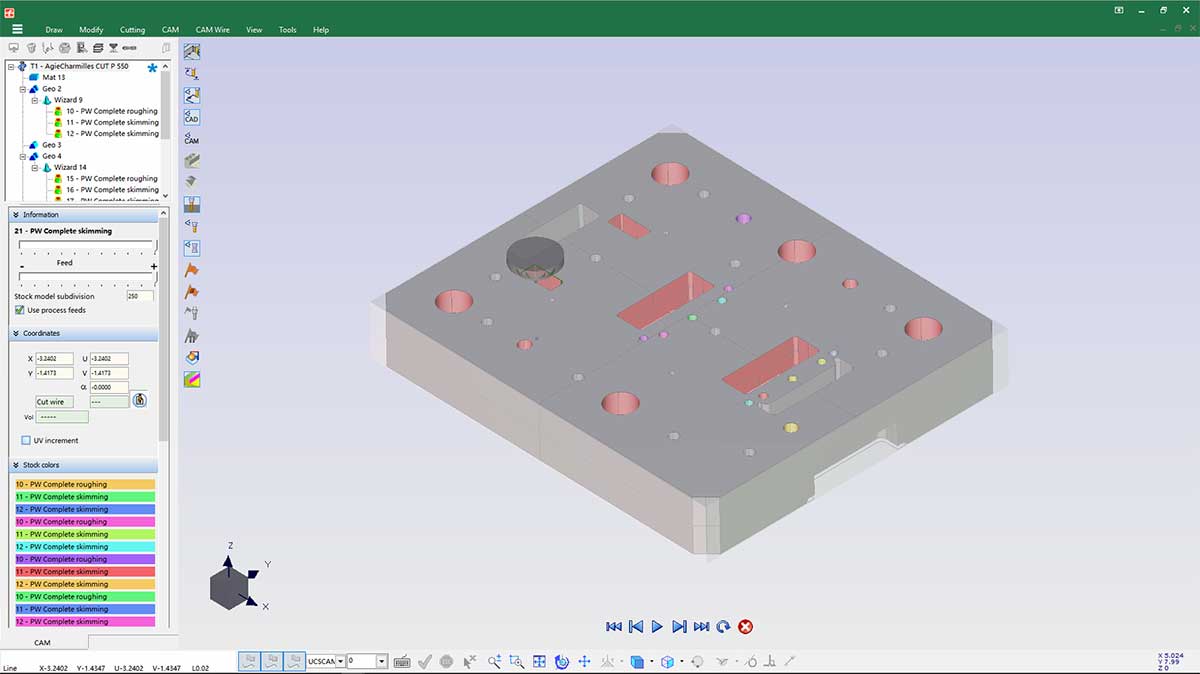 Can be integrated into all GFMS CUT machine series
ACcam.easy is a special version of Metalcam's Fikus Visualcam developed together with +GF+ AgieCharmilles to get the best results from the AgieCharmilles machines.
ACcam.easy Essential Package can be integrated on the Vision, CUT E, CUT P, CUT P Pro and CUT C series controller. It can be optionally upgraded to the Complete Packages. ACcaam.easy for PC can be used to program other AgieCharmiles machines.
Download here the PDF brochure
Click here or on the image to read, download or print the PDF file of our brochure.
Click here to access the brochures of all our products.