CAM Solution for CNC Turning Centers
Make your 2X turning jobs easy and error free
The Fikus solution for CNC lathe programming is an efficient CAD/CAM software that is easy to learn and use. Fikus can perform automatically the entire machining process, including all the necessary technological operations: facing, threading, drilling, and more.
With Fikus for Lathe machining you will be able to perform efficiently and without errors your lathe works even if you are not a specialized lathe operator.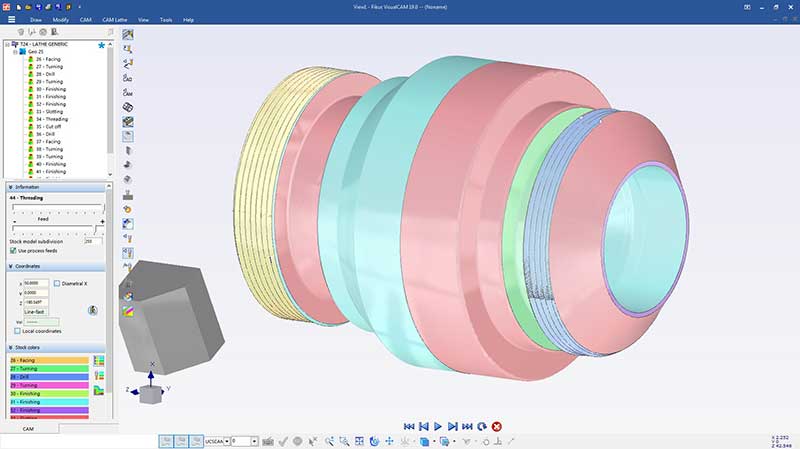 Advanced turning CAD/CAM
Fikus for Lathe is an advanced solution, which includes all the necessary functions to perform complex turning jobs.
Efficient programming of any complex lathe job with Fikus is possible thanks to the advanced machining cycles like turning, facing, profiling, finishing, slotting, threading -also shaped threads- or cut-off.
In addition, Fikus for Lathe calculates the best entry and exit paths, to avoid air-cutting, reducing the time in machine which, together with minimum programming time and minimal human intervention, increases productivity and profitability.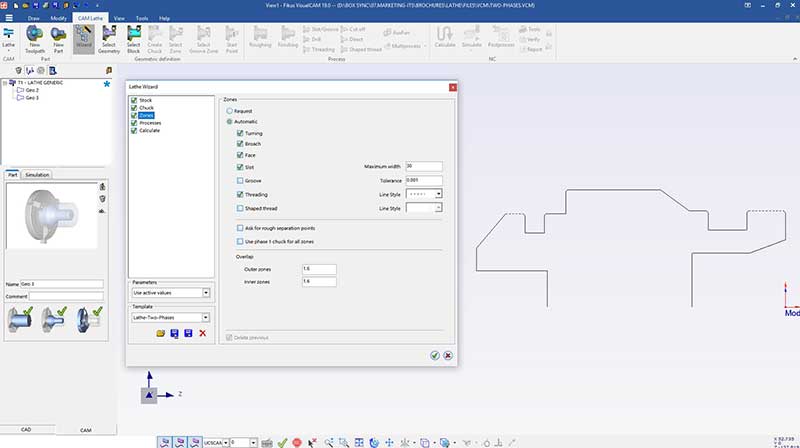 Optimal CNC programs for your machine in just three steps
Fully automated processes
The Lathe Wizard analyzes the geometry of the part and automatically recognizes the geometries to be machined. Can automatically generate the machining strategy without user intervention with efficient machining processes.
Easyn to learn and use
Fikus for Lathe is easy to learn and use. Thanks to its CAM manager, which guides us through the logical process of part machining and the Wizards, we will only have to select the geometry, select the processes and calculate.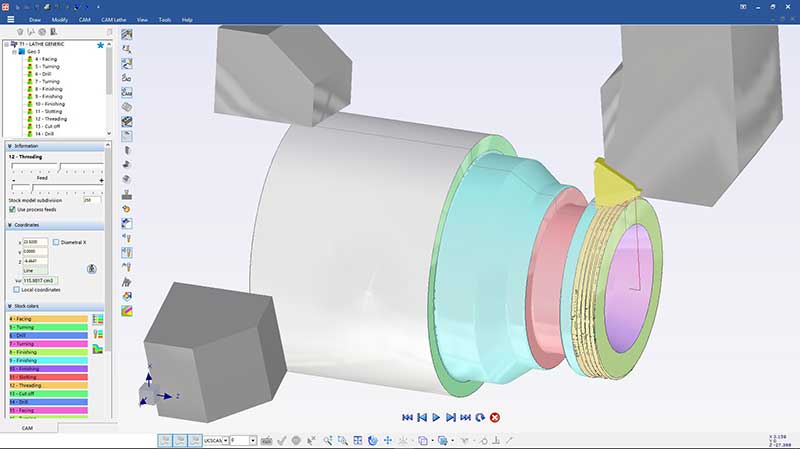 Full control of machine and processes
For experienced turners, the Fikus solution always allows full control of the machine and the machining process so that they can bring their experience to bear on the work processes.
Reduces setup time for complex machining processes
The multi-process templates allow to save efficient machining strategies that have already been tested for subsequent use on similar parts, saving time and ensuring quality.
Shop floor report
Fikus ST can generate a customizable machining report according to your preferences with all the relevant data included: customer data, used tools, machining time, cost, and more...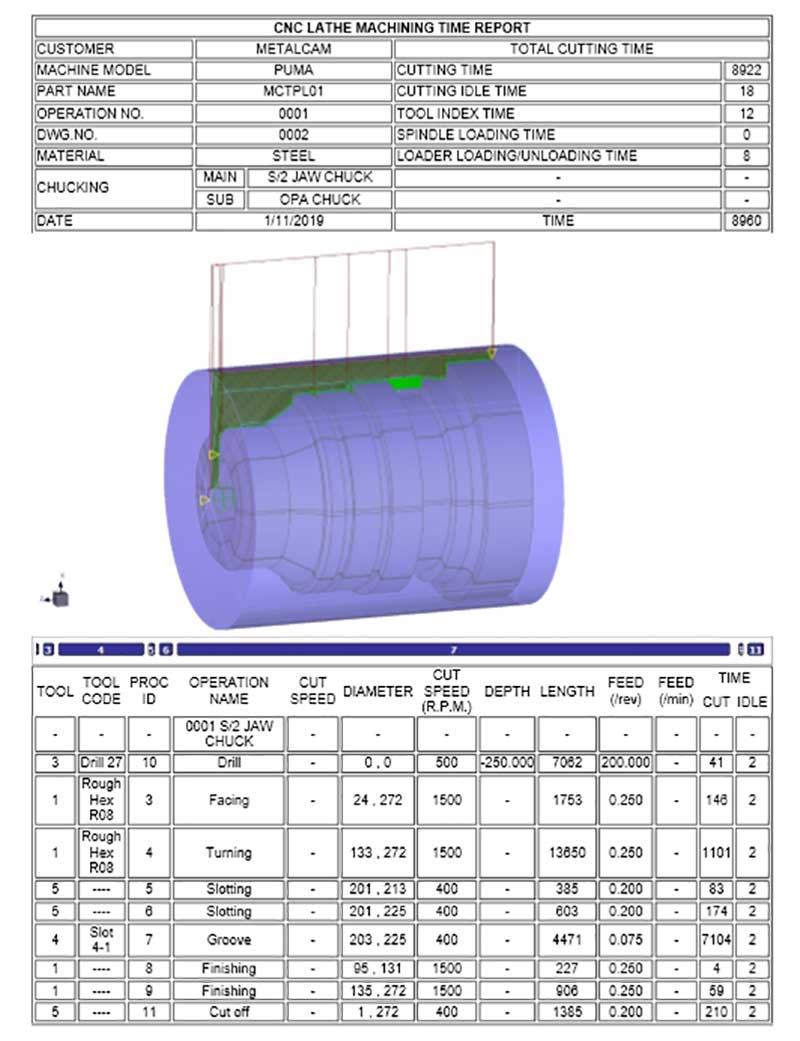 CAD designed for CAM programmers
Fikus Visualcam's powerful CAD, specifically designed to provide solutions to the needs of CAM users, allows import, repair and modify complex 3D files of the most important programs on the market. Geometries can also be exported in multiple formats to facilitate work with customers and suppliers.
Fikus has powerful CAD functions for contour extraction, surface manipulation, gear creation or texts and geometry dimensioning that speed up turning programming.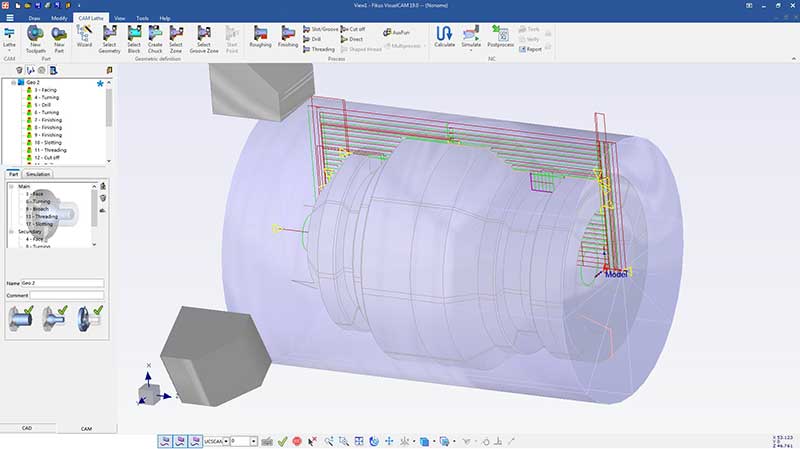 Only one program to work with all your machines
Every machine has been developed to fulfill a purpose and is for this reason that the postprocessors must been specifically developed for every machine. Our engineers have developed specific technological assistants and postprocessors that allows to the Fikus users prepare their machining in just seconds, easily and without errors.
The postprocessors are optimized to use the same language and all the technological possibilities of your machine (subroutines, machine cycles, etc.). As a result, they generate more compact and efficient programs, that get the most out of your machines without the need for on-machine modifications.
With Fikus you don't need to be an expert in the technology of all machines. Fikus is able to program them all.
Scalable
With Fikus you get an easy to use and learn solution, with specific technological developments for your machine. But also an advanced CAD/CAM; Fikus is easily scalable to meet the highest technological demands.
It also gives you the freedom to expand your park of machines and technologies without limitations, in the confidence that Fikus will offer you a common intuitive working environment with assistants specifically developed for each of your machines and technologies.
Service vocation
Fikus is more than a CAD/CAM program. At Fikus, the quality, proximity and immediacy of the technical service response is an integral part of the solutions we offer, such as the calculation algorithms, wizards or the CAM manager.