Fikus ST a complete CAD/CAM developed for the shop floor
The CAD/CAM for the shop floor that gets all the performance out of your machines
Fikus ST is the Metalcam`s recognized software for the shop floor. offers a complete and efficient solution, designed to easily and quickly produce parts, using a wide range of innovative software tools to reduce programming time and increase productivity.
A versatile, productive and easy-to-use CAD/CAM that gets the most out of machine tools thanks to specific machining wizards and postprocessors for the vast majority of machines on the market.
Working environment simulating wire EDM toolpaths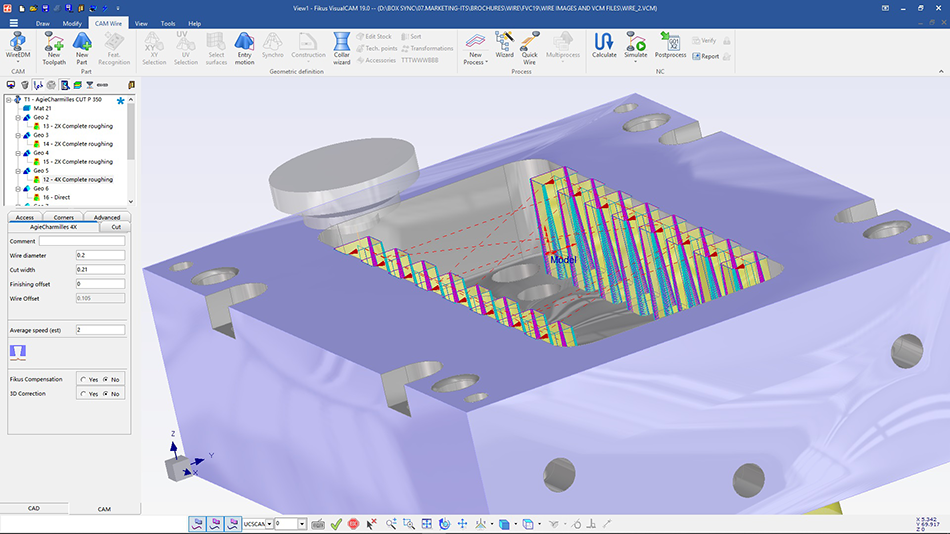 Fikus ST key features
Reduce time-to-market and work hours drastically.
Shorten geometry construction and part definition efforts.
Machine specific Wizard and technological databases optimizing production time and quality.
Automatic Feature Recognition that recognizes the areas to be machined and programs them automatically.
Allows to program your machining operations in only three steps: select the geometry, define processes or parameters, and calculate.
The CAM manager guides you easily and safely through the logical working process.
Advanced toolpath algorithms calculation.
Advanced functions in all machining technologies: rotary axis on wire EDM, adaptive and trochoidal roughing on milling cutters...
New screen mode "dark-mode"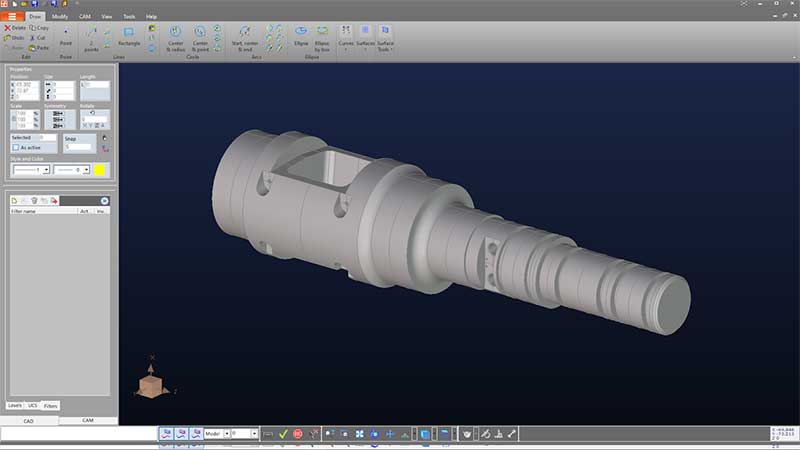 Optimal CNC programs for your machine in just three steps
Fikus ST is an intuitive solution, very easy to use and learn, and highly automated. It is only necessary to select the geometry, define the processes or parameters, and calculate.
It has a CAM manager that guides the user through the logical programming process, from the definition of the part to the creation, calculation and simulation of each machining process to achieve easily and error-free the most efficient machining.
Efficient technological wizards assist the user in this process ensuring optimal machining processes, adapted to the characteristics of each machine and type of work.
Fikust offers a realistic 3D machining simulator, specially developed for verification, collision detection and complex machining simulation.
Wire EDM cutting simulation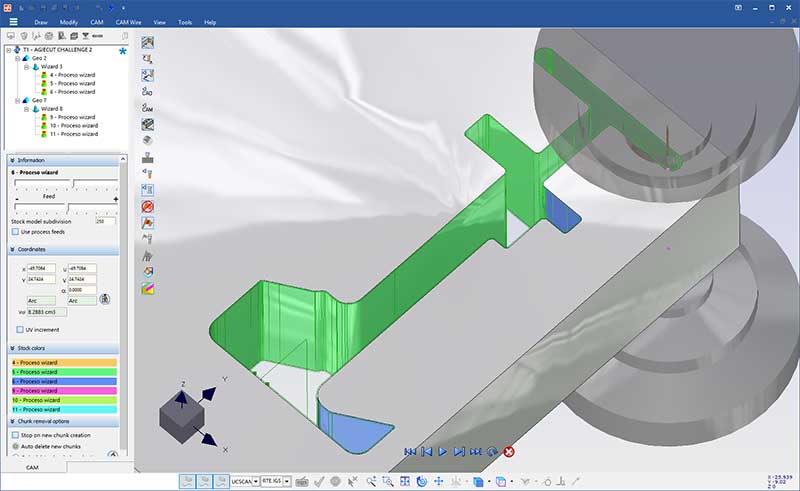 The profitability of automation
Fikus ST includes the Automatic Feature Recognition function, that detects the different areas to be machined and programs them automatically, generating efficient processes.
The Drill Wizard detects all holes, grouping them according to their characteristics, and programs their machining automatically and efficiently.
As Fikus ST solutions include customized technology tables for the different machines on the market, generates machine-specific CNC programs and no on-machine modifications are required.
Templates for an optimal machining
If you have already defined and tested your best machining strategy for a part, you can save it as a template and use it later for similar parts. You will save time and will avoid mistakes.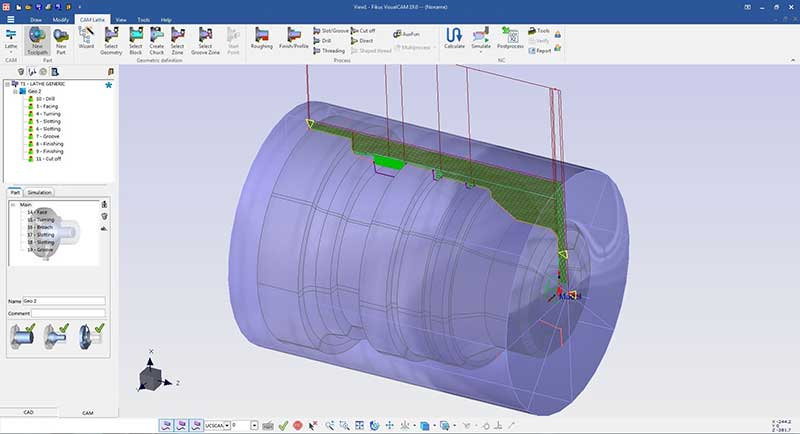 Powerful and complete solution, from design to production, with advanced functions
Fikus ST offers efficient and productive solutions in all machining technologies. Fikus ST offers solutions specifically developed for each machining technology that include the most advanced CAM functions in each technology, such as rotary axis functions, or autofix in wire EDM, adaptive and trochoidal roughing on milling cutters, advanced turning cycles and so.
If you have several different machining technologies in your workshop, with Fikus ST you can manage all your machines in a single and intuitive working environment:
Millturn machining simulation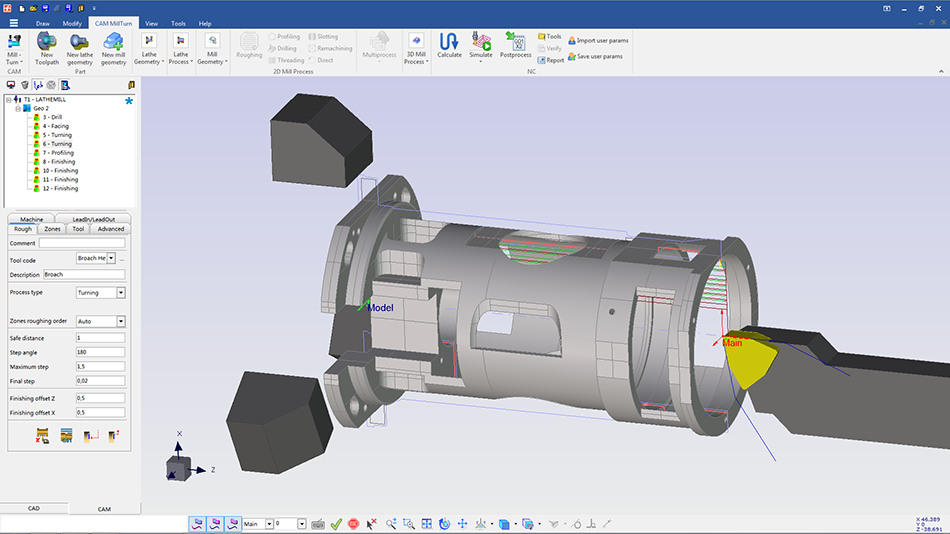 CAD developed for CAM programmers
The CAD integrated in Fikus ST has been developed to match the users' needs. Whether you have to build your geometry from a drawing or you get it from a CAD system and you must modify it, Fikus ST offers powerful functions to create and edit your CAD work and prepare it for CAM.
The Fikus ST CAD offers multiple functions to the user:
Functions to generate wireframe geometry
Functions to modify geometry extract contours and work with surfaces
Create gears, rack gears, texts and dimensions
Use the 'fastedit' functions to quickly move, copy, scale and modify the geometry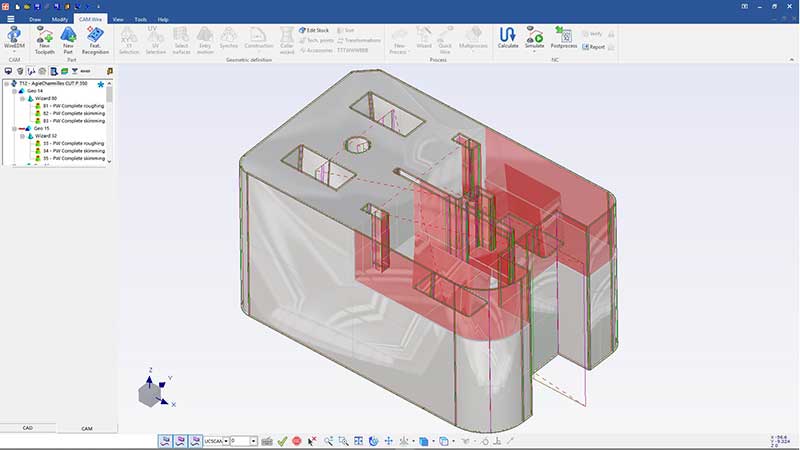 Only one program to work with all your machines
Every machine has been developed to fulfill a purpose and is for this reason that the postprocessors must been specifically developed for every machine. Our engineers have developed specific technological assistants and postprocessors that allows to the Fikus users prepare their machining in just seconds, easily and without errors.
The postprocessors are optimized to use the same language and all the technological possibilities of your machine (subroutines, machine cycles, etc.). As a result, they generate more compact and efficient programs, that get the most out of your machines without the need for on-machine modifications.
With Fikus you don't need to be an expert in the technology of all machines. Fikus is able to program them all.
Scalable
With Fikus you get an easy to use and learn solution, with specific technological developments for your machine. But also an advanced CAD/CAM; Fikus is easily scalable to meet the highest technological demands.
It also gives you the freedom to expand your park of machines and technologies without limitations, in the confidence that Fikus will offer you a common intuitive working environment with assistants specifically developed for each of your machines and technologies.
Service vocation
Fikus is more than a CAD/CAM program. At Fikus, the quality, proximity and immediacy of the technical service response is an integral part of the solutions we offer, such as the calculation algorithms, wizards or the CAM manager.
Technology Wizards from almost all manufacturers