Optimal milling in only 3 steps
Easily solve any job in the shop floor
Fikus Visualcam for milling is a powerful CAD/CAM software for milling production jobs, easy to learn, very intuitive, with efficient wizards and many automated processes, requiring only a couple of minutes to machine a part.
Make your milling jobs in just 3 steps: select the geometry, aply a machining process and calculate.
Feature Recognition
The new function Automatic Feature Recognition simplifies and speed up the programming of parts to be produced, reducing drastically manufacturing times and increasing productivity.
Advanced functions
Aditionally, Fikus offers also a range of options to machine the most complex jobs, as a 3D solids CAD module, very fast and intuitive, or all the CAM functions needed to machine 2.5D and complex 3D surfaces, included advanced optimization options as roughing, pre-finishing, finishing, flat areas machining, trochoidal machining, residual areas or bi-tangencies.
Automatic Feature Recognition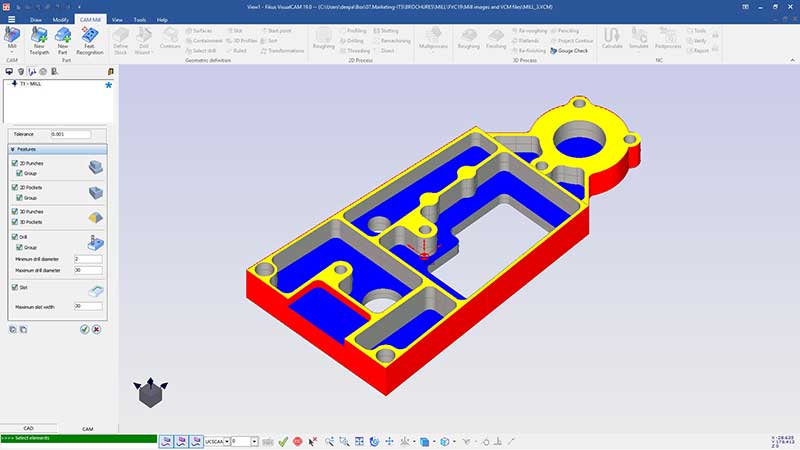 Advanced roughing options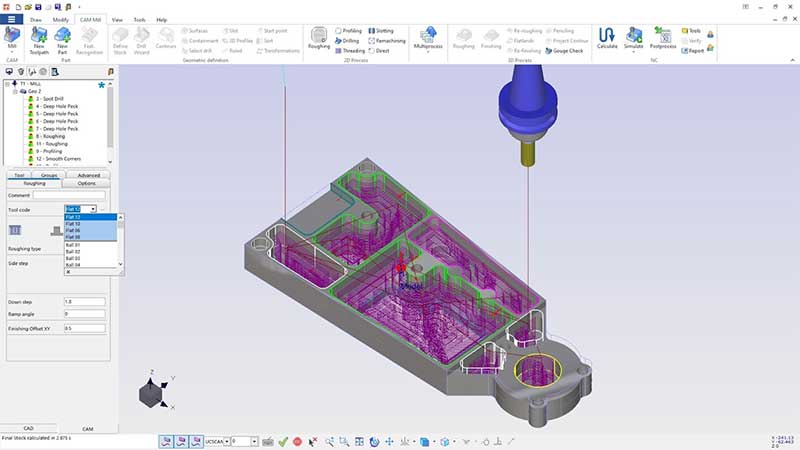 Complete solution for 2D and 2.5D milling
Fikus is a complete solution for parts machining. The roughing and contouring of multiple contours and different heights are processes that Fikus can do automatically. In 2.5D milling, Fikus allows to do easily and quickly 3D geometries construction.
Machining optimization
Fikus Visualcam considers interactions between bosses and pockets, optimizing sub-routines and repetitions and using specific machine cycles and functions in the most efficient way.
Automatic drilling wizard
The Fikus Visualcam drill wizard automatically recognizes and generates all the different types of drills, making it a highly efficient tool.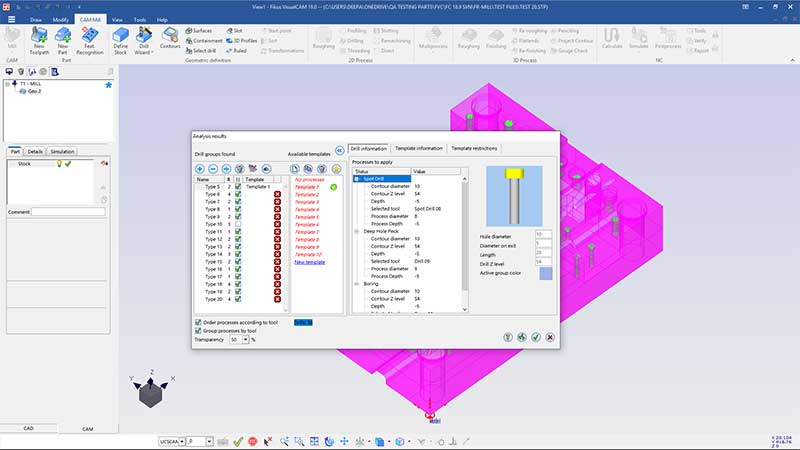 Powerful CAM for 3D complex surfaces
Advanced machining options for complex surfaces as the Advanced finishing that allows to use zig-zag finishing strategies, constant Z, constant cusp, spiral or radial penciling where previous tools could not enter.
The Trochoidal roughing strategies ensure constant machining conditions generating smooth transition paths and constant angle and depth of attack reducing the machining time and extending the tool life.
Fikus for milling programs and machines efficiently complex surfaces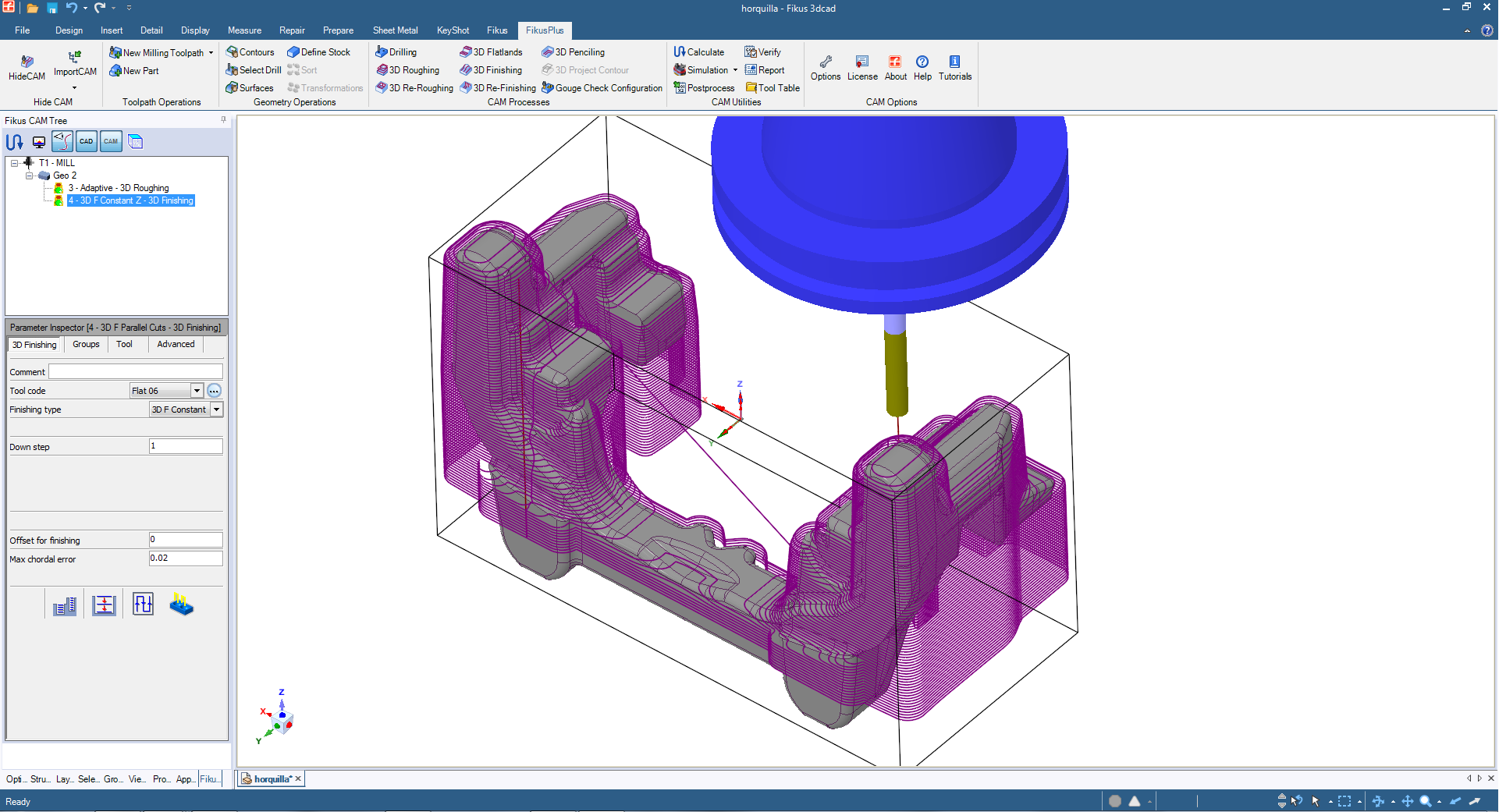 Reduces programming and machining time
Fikus allows you to optimize time and automate programming by using templates with tested machining strategies that you can later use to easily generate new similar machining processes, reducing time, costs and errors.
The machining multi-processes templates allow to use mutiple machining operations such as roughing, finishing passes, all at once. All toolpaths will be associated to each other as well as the original geometry allowing late modifications and can be applied later in similar parts easily and safety.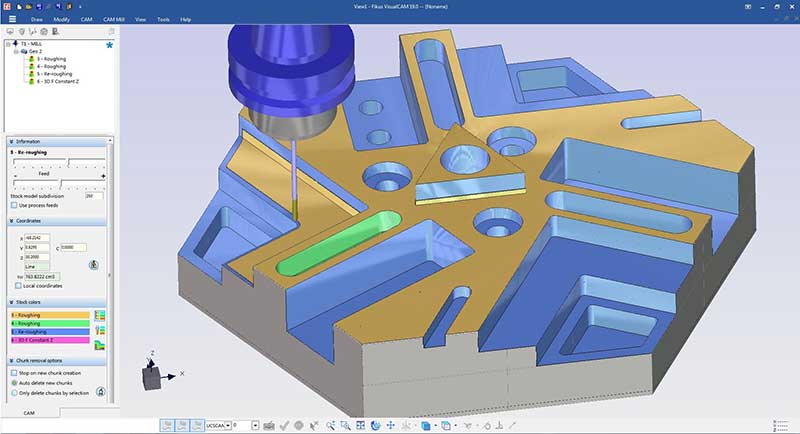 Powerful CAD specifically developed for CAM programmers
The Fikus Visualcam CAD software has been designed to solve the needs of a CAM programmer. You can create or modify easily any geometry. You can also import or export the geometry to a multitude of diferents formats (IGES, STEP, Parasolid, SolidWorks, DXF, DWG or PLT).
3D solids CAD or wireframe, according to your needs
You can select the CAD software option that best match your needs, sure that always will include all the tools needed by a CAM programmer: Unlimited undo/redo, gear creation, smart cutting, pressing pre-view and all the geometric necessary functions to create and edit contours and parts.
Visualization of toolpath program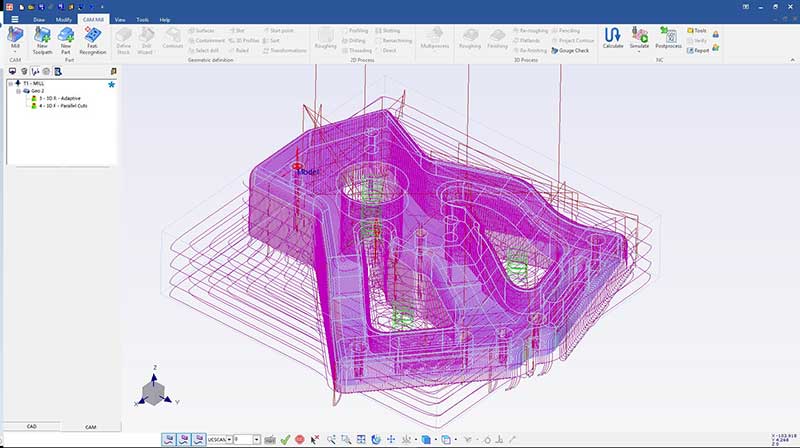 Only one program to work with all your machines
Every machine has been developed to fulfill a purpose and is for this reason that the postprocessors must been specifically developed for every machine. Our engineers have developed specific technological assistants and postprocessors that allows to the Fikus users prepare their machining in just seconds, easily and without errors.
The postprocessors are optimized to use the same language and all the technological possibilities of your machine (subroutines, machine cycles, etc.). As a result, they generate more compact and efficient programs, that get the most out of your machines without the need for on-machine modifications.
With Fikus you don't need to be an expert in the technology of all machines. Fikus is able to program them all.
Scalable
With Fikus you get an easy to use and learn solution, with specific technological developments for your machine. But also an advanced CAD/CAM; Fikus is easily scalable to meet the highest technological demands.
It also gives you the freedom to expand your park of machines and technologies without limitations, in the confidence that Fikus will offer you a common intuitive working environment with assistants specifically developed for each of your machines and technologies.
Service vocation
Fikus is more than a CAD/CAM program. At Fikus, the quality, proximity and immediacy of the technical service response is an integral part of the solutions we offer, such as the calculation algorithms, wizards or the CAM manager.