Merefsa, pioneer in silicone and PTFE (Teflon) processing

Interview with Rafael Jiménez Technical Manager of Merefsa
"Fikus Visualcam and ACcam.easy provide us with versatility in the manufacture of extrusion heads for our silicone profiles".
50 years in the market
Merefsa is a pioneer in silicone and PTFE (Teflon) transformation processes. Founded in 1966 by the Senart couple, Merefsa celebrated its 50th anniversary last year, with a constant investment in technology and a permanent evolution in its processes.
The company has developed its own manufacturing methods throughout the entire production process. Merefsa performs mixing and additivation, silicone extrusion, welding and molding, die-cutting, cutting, laser marking and machining, which allows them to offer their customers customized solutions for both large series and prototypes.
The quality and competitiveness of its products, always at the forefront of the sector, has pushed Merefsa to a constant growth that has led them to move their facilities to their current location in Viladecans. The growth in demand, especially in recent years, has led to a new change of location and, in the coming months, the workshop will move to the nearby town of Sant Boi to provide better service to its customers.
Since its foundation, Merefsa has had an international vocation and currently markets its products in the five continents, exporting regularly to more than 30 countries, so the location near the port and airport is key to respond quickly to its customers.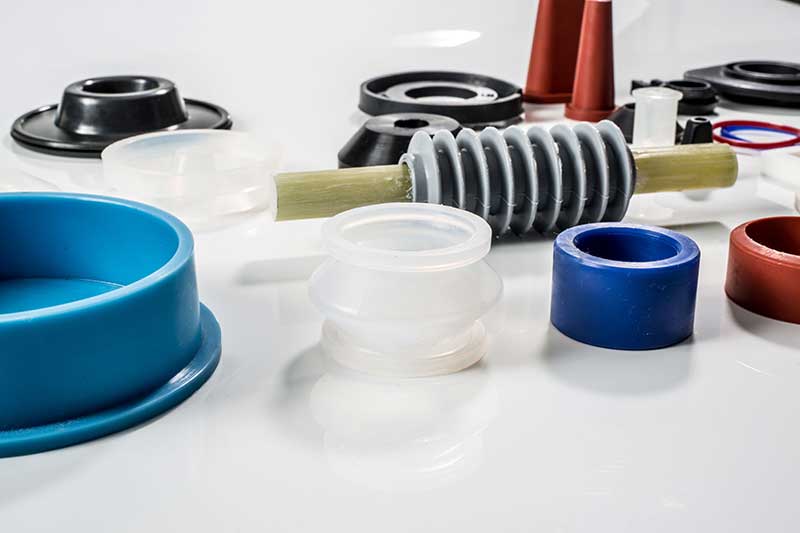 Silicone
"Silicone is an elastomer that, due to its characteristics, is in great demand in the chemical, medical and food sectors. The material is inert and suitable for food, pharmaceutical and medical contact," says Rafael Jiménez, "but it also offers great thermal resistance, excellent resistance to temperatures above 200ºC, good electrical insulation, with excellent mechanical behavior that can be customized with additives, high resistance to most chemical agents and to weathering, and can be colored at will, even with phosphorescent, fluorescent or metallic colors, making it a product without competition in many sectors".
Another characteristic of silicone is its resistance to fire and its behavior with respect to this agent, since, unlike other elastomers, it burns very slowly, produces hardly any flame and degrades into powder.
Merefsa develops all types of silicone products, both in compact and spongy silicone. In compact silicone, in addition to sheets, cords, hoses and tubes, they offer all types of profiles, rectangular and with the most varied shapes, both standard (of which they offer an extensive catalog) and upon customer request.
Virtually the same product portfolio is also available in sponge silicone, so customers always find the right solution for their needs.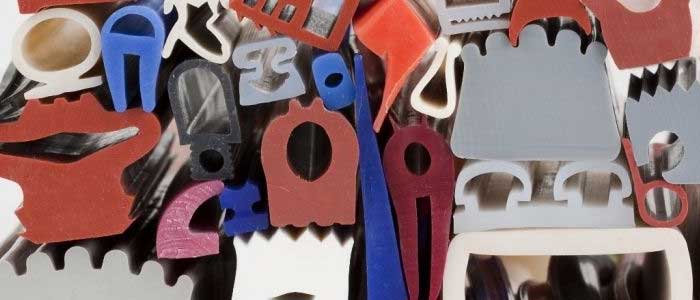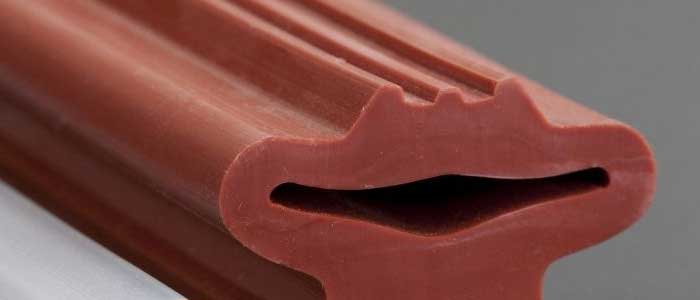 Silicone finished products
Merefsa's catalog is complemented by a wide range of silicone finished products such as fiberglass reinforced tubing, molded gaskets, O-rings, welded frames, inflatable gaskets or die-cut flat gaskets.
Rafa Jiménez comments that "this wide range of finished products is due to the great demand from the industrial supplies sector, which is in fact one of our main markets. An increasingly popular product - he continues - is the Qualisil® siliconized baking mats, food-safe, combining our two major production lines, silicone and Teflon. Our two production lines are also present in the machines for sealing plastic bags in large supermarkets".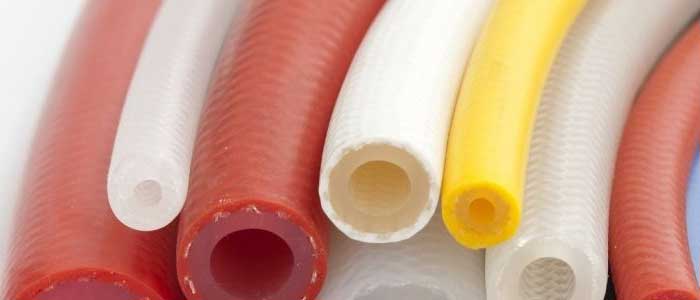 PTFE (Teflon)
The other product line is based on PTFE, short for polytetrafluoroethylene, popularly known as Teflon. It is an inert, non-stick polymer, which is its best known characteristic. "The fluorine molecules of this compound -says Rafa Jiménez- form a barrier that is practically impassable to other molecules, which gives Teflon its peculiar characteristics.
In addition to its well-known non-stick properties and its low coefficient of friction (less than 0.1), PTFE is inert, an exceptional insulator and has an excellent thermal resistance, unalterable between -200 and 260º C.
Meshes and fabrics
Merefsa manufactures PTFE-impregnated glass fabric and sells it in coils or in strips and meshes with different types of reinforcements and splices to adapt to the needs of customers.
It also manufactures rolls of the same impregnated fabric cut to size with adhesive sides for zone-tapes or baking sheets, die-cut to customer specifications.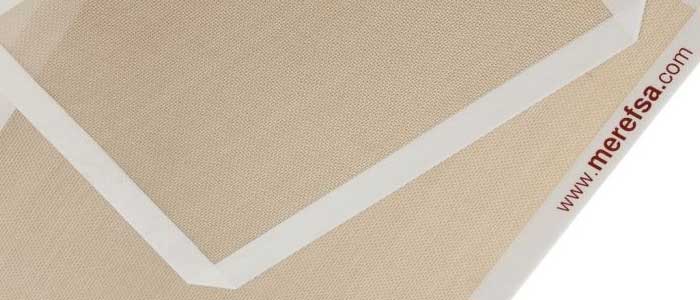 PTFE manufactures
As in the case of silicone, Merefsa's PTFE offer is completed with a broad catalog of manufactured products such as PTFE films, sheets, rods and dollas, expanded PTFE tapes, smooth and corrugated tubes and a wide variety of bellows and machined products in this material.
Another product that combines Merefsa's two specialties are silicone or FKM gaskets encapsulated in FEP or PFA in different formats.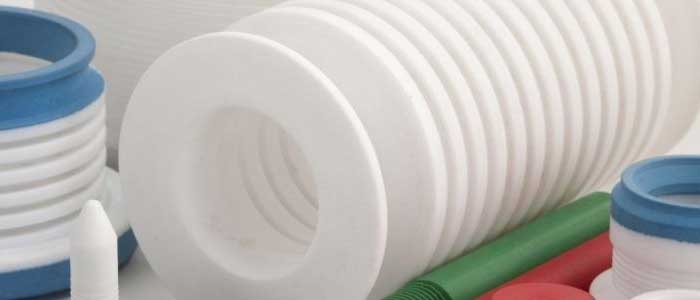 Production shop floor in permanent renovation
The nature of the materials and the variety of products in the catalog involve a multitude of different manufacturing processes and make it necessary to have a wide range of machinery.
Merefsa has a workshop with all the machinery for the manufacture of molds, tools and dies necessary for production.
They have wire EDM machinery, four-axis machining centers, manual and numerical control lathes, combined cycle machining centers, as well as the necessary machinery for molding, dyeing, extrusion and silicone baking, among other machines to attend all the processes carried out in their facilities, such as wire EDM, milling, turning, die cutting, molding, extrusion, coextrusion, laser marking, welding or adhesive bonding, among others.
State-of-the-art machinery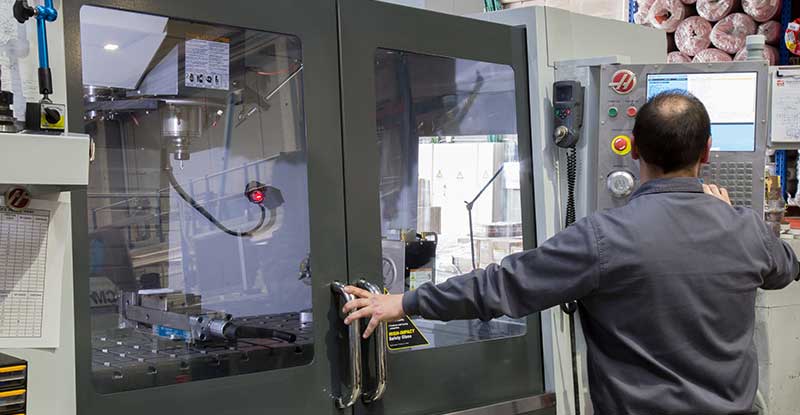 Fikus and ACcam.easy
Merefsa's success is based on a commitment to technology and innovation. A permanent investment in the best machinery ensures product quality and reduces costs and delivery times.
To obtain the highest quality and the shortest manufacturing times, it entrusts the programming of its EDM and drilling machines to Fikus Visualcam, ACcam.easy and ACcam.drill, which get the most out of its machine park.
Working with AgieCharmilles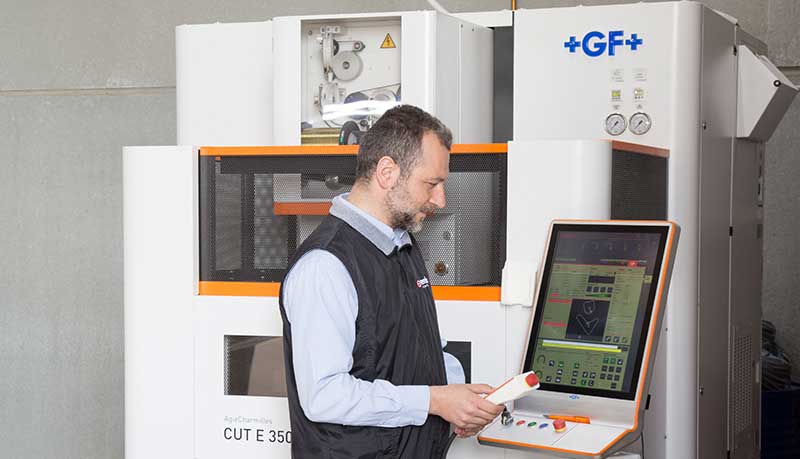 Commercial success
The commitment to innovation in production processes finds continuity in Merefsa's marketing and its commitment to the Internet. Merefsa has understood that the Internet can be a great commercial ally and has invested in a useful website for its customers, where they can find all the necessary information to include the products in the Merefsa catalog in their projects and interact with the company to place orders, orders and reservations of material in an easy and agile way.
An App will also soon be available from which engineering companies will be able to consult the product catalog and even, in real time, reserve material in stock for their projects.
Sponsorship of the Stop&Go Moto2 Team
Merefsa's marketing activities include the sponsorship of the Stop&Go Moto2 team in which riders Isaac Viñales and Tetsuta Nagashima race, which also appears in the MotoGP games for PlayStation 4, Xbox One and PC consoles.
It also sponsors the Formula Student team of Bizkaia, which is under the tutelage of the Department of Mechanical Engineering of the University of the Basque Country (UPV/EHU) and the Higher Technical School of Engineering of Bilbao, as well as Manel Miró in its participation in the Intercontinental Rally 2017, a race that recaptures the spirit of adventure that characterized the former Paris Dakar.
Sponsorship of the Stop&Go Moto2 Team