FikusPlus 24: a new standard in productivity and flexibility
Excellent at machining repeated geometries, it is more productive and versatile
FikusPlus 24 has been designed to offer new levels of flexibility and productivity. The ability to machine in 4 continuous axes on a milling cutter makes it possible to machine complex parts that could not be produced until now, with automatic roughing and finishing. The 6 axes in wire EDM, allow greater flexibility and speed in this type of machining.
Many improvements have been introduced in the calculation processes, in the wizards or in the selection of element chains, now much faster. New functions, such as gear design, or agile part and toolpath transformations, represent a qualitative leap in productivity.
Undoubtedly, the efficient Automatic Feature Recognition, now much faster, is a step forward in automating a solution, such as FikusPlus, highly automated, capable of machining any part in just 3 mouse clicks.
FikusPlus 24, CAD/CAM software for wire EDM and y 2D/3D milling
Multiple enhancements to optimize versatility and productivity
The new version 24 of FikusPlus incorporates many new features aimed at improving productivity.
New function for gear design
A highlight is the new approach to gear design, in which only the basic parameters have to be modified, without any calculations. The basic parameters are: number of teeth, module, circular pitch, primitive diameter. Only two of these three values are needed, the third can be derived from the other two.
Circles report
The new version, in wire EDM, provides a report with the wire entry points for drilling holes.
Only a couple of basic parameters are needed to design a gear unit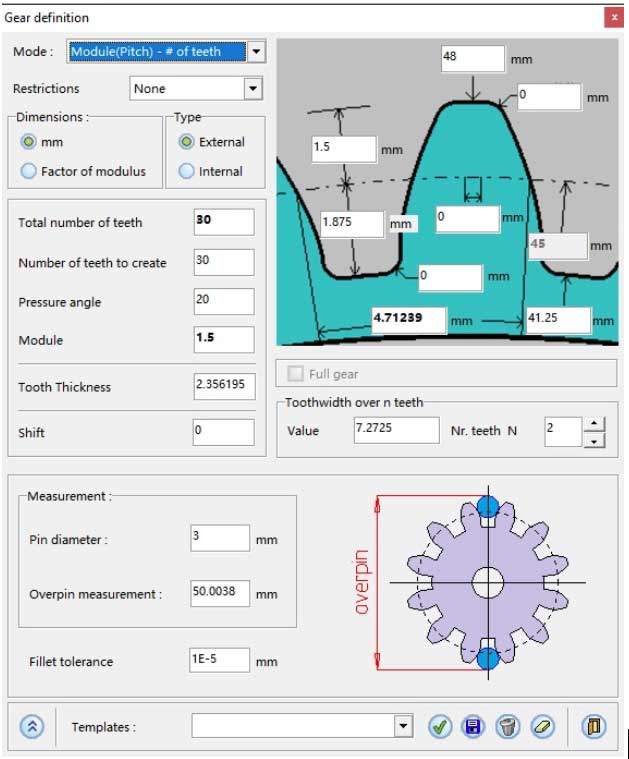 Maximum efficiency when machining repeated geometries
New algorithm improves performance and efficiency when working with identical geometries. Unlike traditional methods, which require several parts for each repetition, the improved method only uses one part and applies transformations, which reduces memory usage and time. Supports unlimited number of repetitions, useful for complex patterns or shapes. The subroutines make the ISO file shorter and easier to read, resulting in a simpler and shorter pattern.
The new version of FikusPlus has worked on making geometry and toolpath transformations more agile to, through them, easily program complex patterns, including polar transformations, and with very low memory consumption and very light machine programs.
New, more accessible menu
Some of the improvements in this section are found in the new adaptable menu, that now adapts intelligently to any screen size by maximizing the most important functions that are always easily accessible.
Repeated geometry machining, in milling and wire EDM, can be easily programmed with the agile geometry and path transformation tools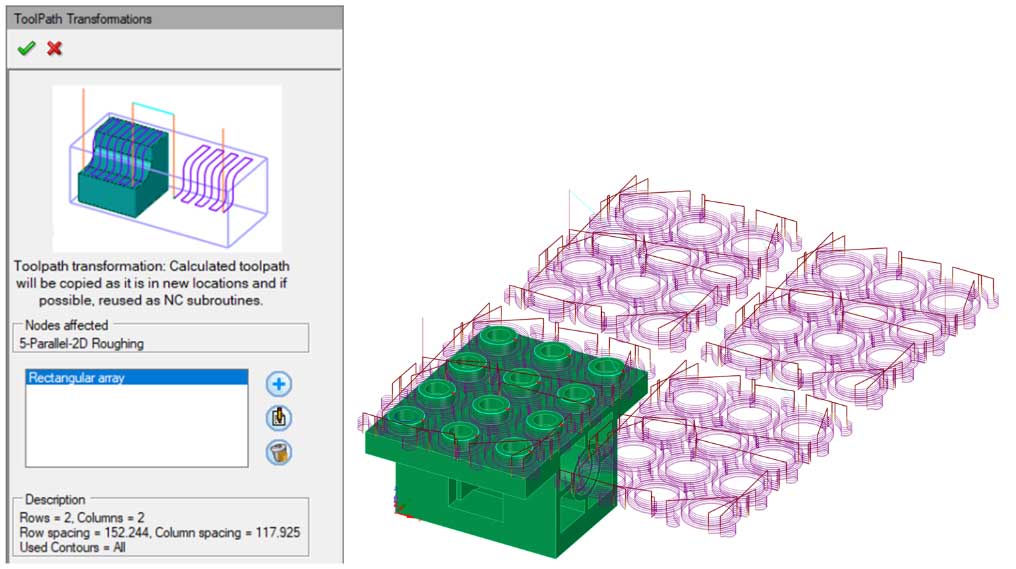 Up to 4 continuous axes for producing the most complex parts
With the 4 continuous axes incorporated in this version, FikusPlus is able to solve the most complex jobs efficiently. FikusPlus can now handle 3-axis, 4-axis continuous and 5-axis positioned jobs. In 4-axis machining, in addition to working in the X, Y and Z axes, the part (or the tool) can simultaneously rotate around one of the axe. FikusPlus allows easy selection between X or Y rotation axis.
4-axis job programming has powerful tools that allow complex operations to be performed easily, such as performing polar transformations of arrays; programming a geometry and transforming it to generate rotated copies of the same around an axis, very useful for creating symmetrical patterns. It also has advanced 4-axis roughing and finishing processes, with a containment contours function, applicable to walls, floors and profiling operations.
The corner roughing includes a corner smoothing function with three available methods: line, arc and loop; the user has more flexibility and control over the smoothing process.
Follow the 4X curve is a function similar to slotting or profiling, in which a tool moves along a predefined path to cut out a contour. In this case it can be done perpendicular to the rotary axis (4X) or in a traditional way (3X).
There are more new features in milling, such as the group highlighting, which displays the selected contour with a special highlighting, making it easier to identify the shape and size of the selected contour.
Continuous 4-axis machining included in FikusPlus 24 enables new levels of quality and complexity in the manufacture of parts

Maximum control and quality in the roughing of corners in the machining of pockets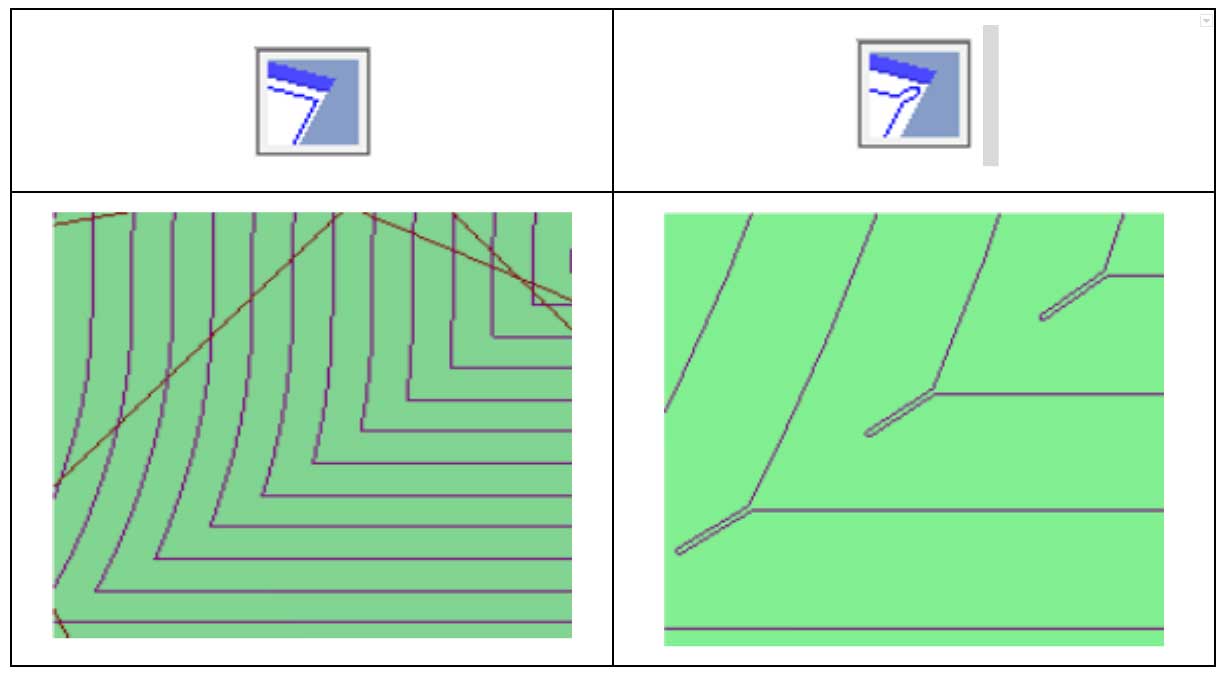 Advanced features and new possibilities for higher productivity in wire EDM
Fikus is the leading Wire EDM CAM, due to the advanced solutions it provides to users, being a very intuitive and easy to use CAD/CAM. Advanced wizards allow you to program the most complex geometries in just three mouse clicks or virtually automatically with Automatic Feature Recognition.
Many improvements have been introduced in this version in order to remain the reference CAD/CAM in wire EDM, the best choice, from CAD to on-machine production. These new features include 6-axis wire cutting, the new much more efficient selection systems, the improved 4X pocketing or the most advanced machining simulator.
Automatic Feature Recognition up to 20 times faster
The Automatic Feature Recognition of FikusPlus 24 is up to 20 times faster than in previous versions. This function is capable of recognizing almost any element to be cut, such as punches, cavities, open contours, cylinders, constant and variable taper, 2-axis and 4-axis parts, etc., y, ahora, de forma casi inmediata.
A new standard in wire EDM quality with 6-axis control for machining the most complex parts with the highest quality and precision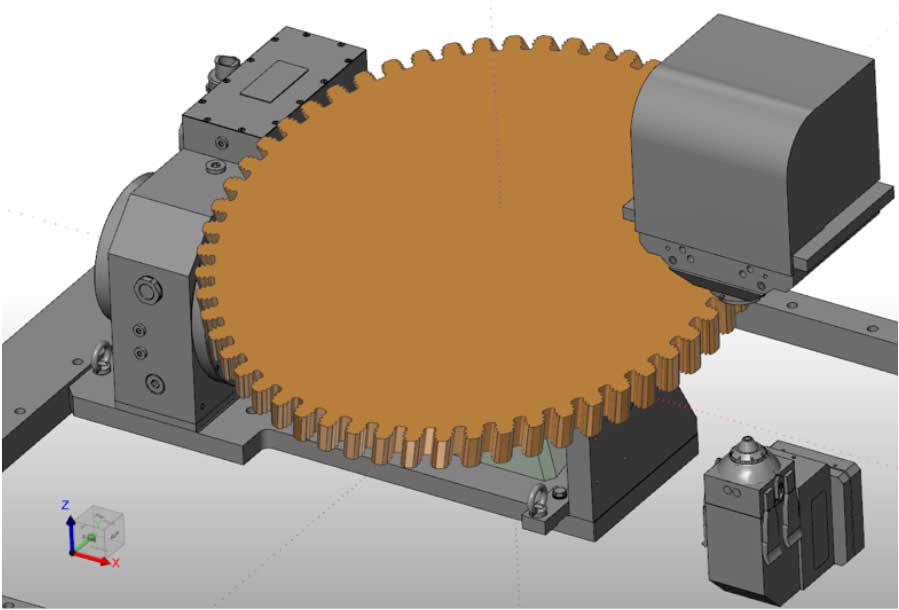 6-axis flexibility in wire EDM
6-axis wire EDM machines offer high flexibility when cutting complex shapes and contours. The possibility of orienting the part at different angles eliminates the maximum wire angle limitations.
This technology allows complicated operations such as conical cuts, variable angles and positioning of parts in several axes, making it suitable for precision applications and complex shapes.
Contour or surface selection up to 90% faster
The XY selection / Select chain simplifies the selection of multiple elements along a chain of connected edges or curves which, for large tool paths, implies a 90% time reduction. This feature improves productivity and efficiency by reducing the time required to make complex selections.
4X advanced pocketing
A new algorithm, which combines 2x and 4X pocketing automatically, allows reduction of machining time on the machine by up to 30%. This advanced technique offers higher cutting speeds and shorter cycle times in taper angle pockets.
XY selection / Select chain reduces the time required to select large chains by 90%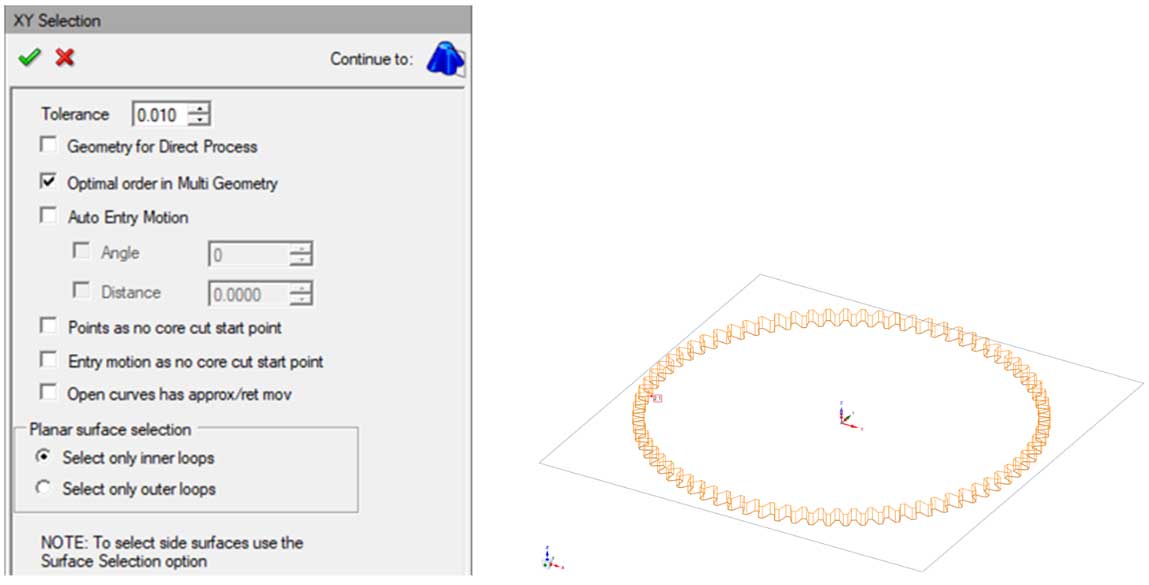 New simulation possibilities in wire EDM
FikusPlus 24 provides new possibilities for advanced realistic simulation. Now, in wire EDM, it is possible to compare the simulated result with the initial geometry. This option allows users to detect machining deviations and errors such as collisions. It also helps to optimize cutting parameters, tool selection and strategies for different materials and geometries.
New type of part simulation models behavior during machining processes and helps optimize cutting parameters