Innovations and improvements in FikusWorks 20
Faster, more reliable and efficient
Metalcam launches to the market the new version of FikusWorks that incorporates multiple improvements and new features to provide users faster, more reliable and efficient wire EDM CAM, improving the workflow allowing to reach new levels of productivity.
In the new FikusWorks 20 there are multiple new characteristics that will help the user to improve the experience with the software. We have improved the calculation algorithm decreasing times, improvements in Wizards performance and also reducing scene regenerating when changing from one node to another in CAM.
FikusWorks feature recognition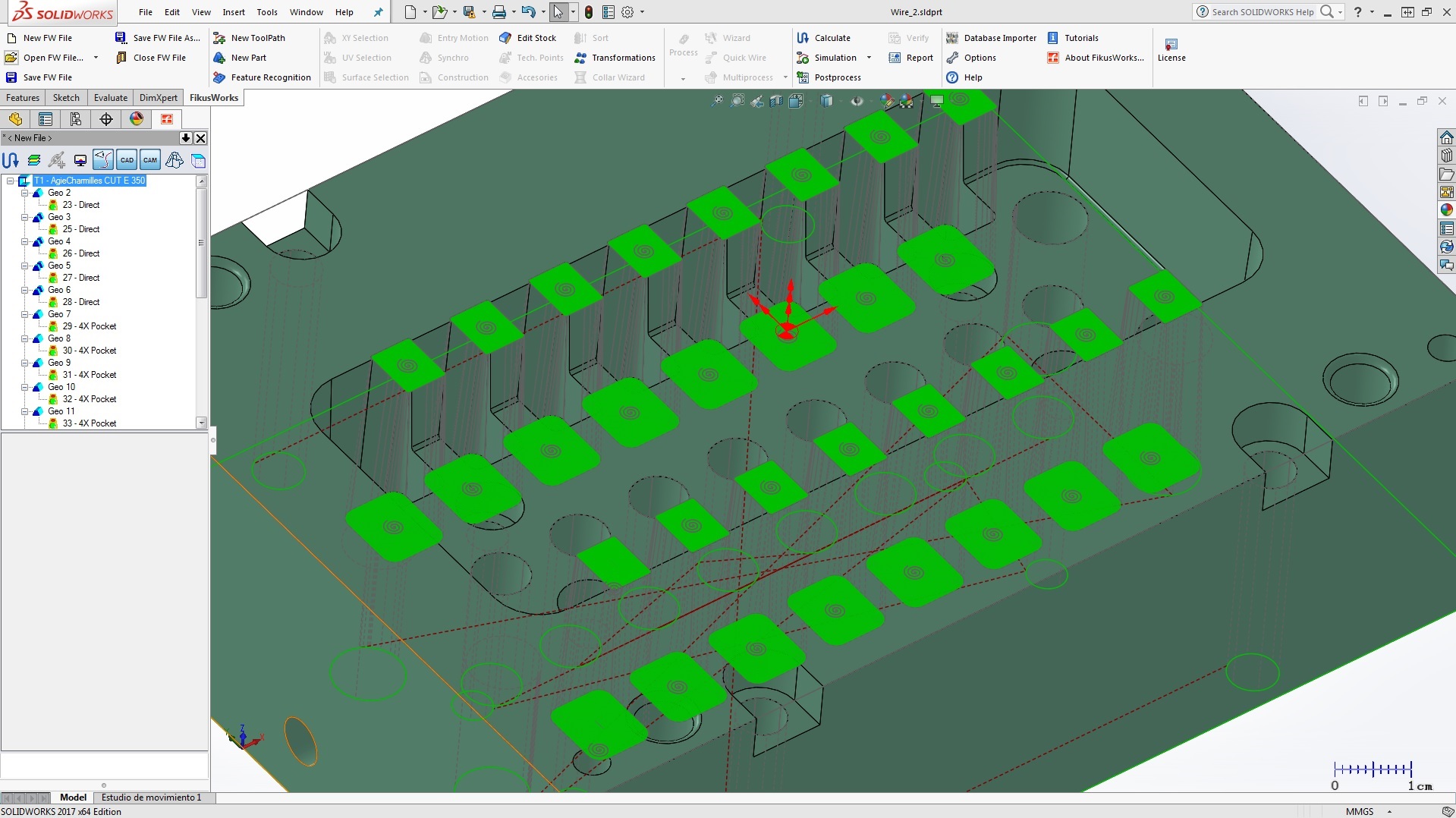 A complete solution for wire EDM, or an add-in for your Solidworks CAD
Complete solution
FikusWorks is available as a comprehensive CAD/CAM solution, in three different configurations to suit your needs:
SolidWorks CAD (parts-only) + Wire EDM CAM
SolidWorks CAD (Parts & Assembly) + Wire EDM CAM
SolidWorks CAD (Parts & Assembly & Drawings) + Wire EDM CAM
All the tools available in FikusWorks can significantly improve productivity and manufacturing time, such as specific machining wizards for different machines, templates, customizable databases or automatic technological points, which are available to make your work easier and more productive.
Machine technologies from manufacturers Like Accutex, ActSpark, GF Machining Solutions, Chmer, Fanuc, Hitachi, Joemars, Makino, Mitsubishi, ONA EDM and Sodick are implemented in FikusWorks with optimized technological tables and postprocessors. The programming wizards help to create the cutting sequence step-by-step and control all the machining parameters. Thus the Expert Knowledge helps to complete the programming process easily and efficiently.
Fully integrated add-in
FikusWorks 20 is also available as an add-in to integrate the best wire EDM CAM solution on the market into your Solidworks platform and start programming the machining immediately.
Once you have finished your CAD tasks, you can directly open the FikusWorks tab in the SolidWorks main menu and start working with the intuitive, easy to use and efficient FikusWorks CAM solution for wire EDM.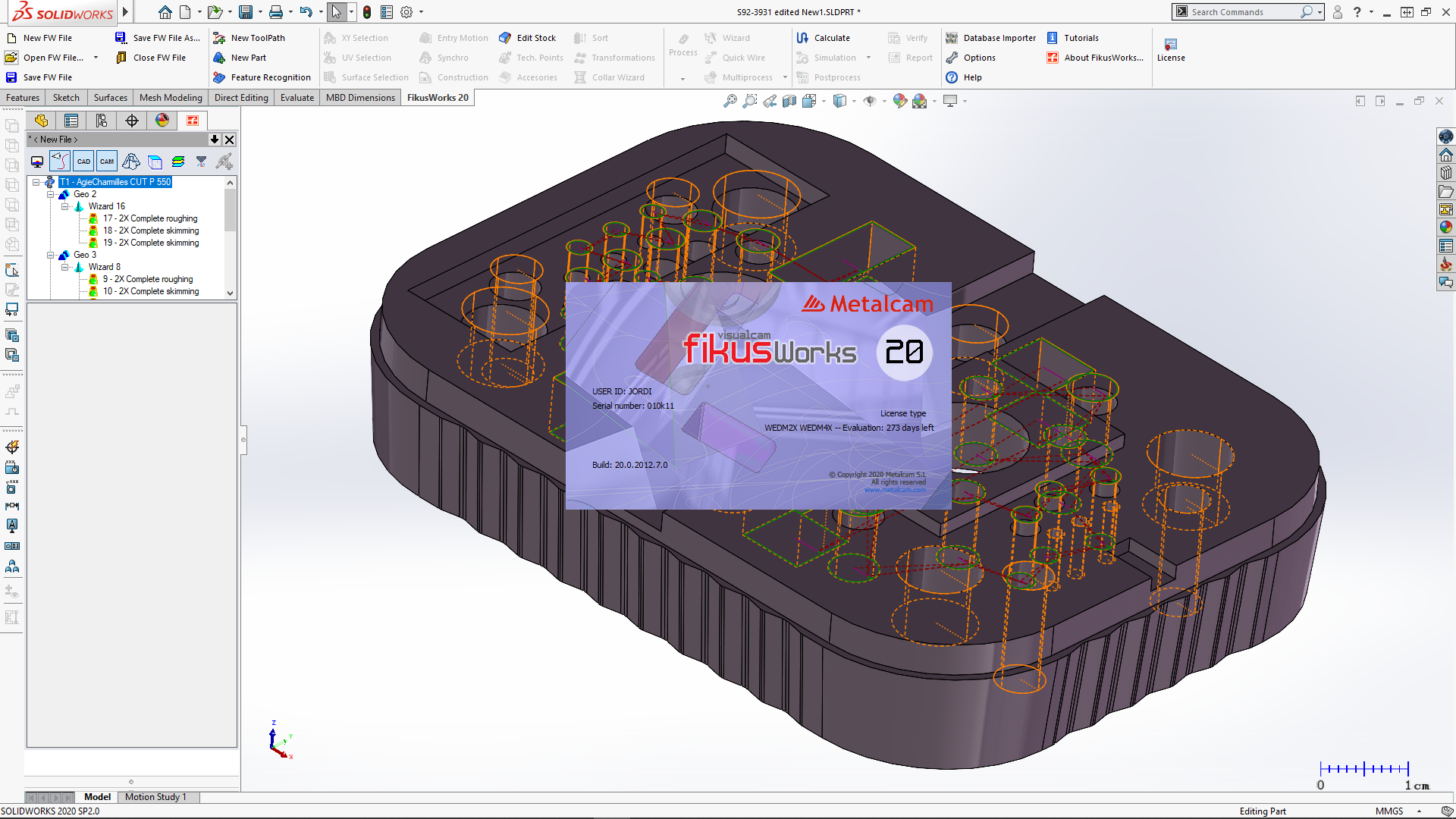 Advanced and efficient wire EDM CAM
FikusWorks is an advanced and efficient wire EDM CAM software that offers the user a high level of automation and consequently high error-free productivity.
Novedades en Feature Recognition
Feature Recognition is an advanced tool for wire EDM that reduces the workload by automatically detecting all elements to be cut. In addition, it allows the grouping of constant cylinders/angles and the automatic creation of infeed movements.
In this version, a new selection filter for cylinders has been added. It is now possible to download all cylinders or to select only those with a diameter smaller than a certain value. A new method of grouping cylinders according to diameter and height tolerance is also available. This solution is very useful when diameter and height are different and we want to set the same cutting conditions for the whole part.
New features and capabilities
In this version, FikusWorks introduces improvements in CAM such as new path shapes (implementing reconfigured fields and drop-down panels for all technologies).
The icons for all technologies have also been relocated in the CAM icon bar and multi-movement entry for punches has been incorporated.
Multi Origins or Multi "0" for thread technology. New functionality that allows to select one or more machine references for one or more parts. The postprocessor will now output the corresponding machine reference (G54, G55,...) and the relative coordinates.
New interface, specially developed for threading and cutting. Global changes have also been introduced in the order and optimization of Phases/Geometry environment.
The new version of FikusWorks introduces multiple changes in the Wizards specific to each machine tool that contribute to increase productivity.
As generic improvements in the wizards, it is worth mentioning the Remnant Cutting for Plates (combination of punches and die geometry) that has been moved to the last phase, as well as the inclusion of the detail name, machine name and file name, the possibility of jumping between phases, or the use of databases and machines.
New grouping selection method for cylinders by maximum diameter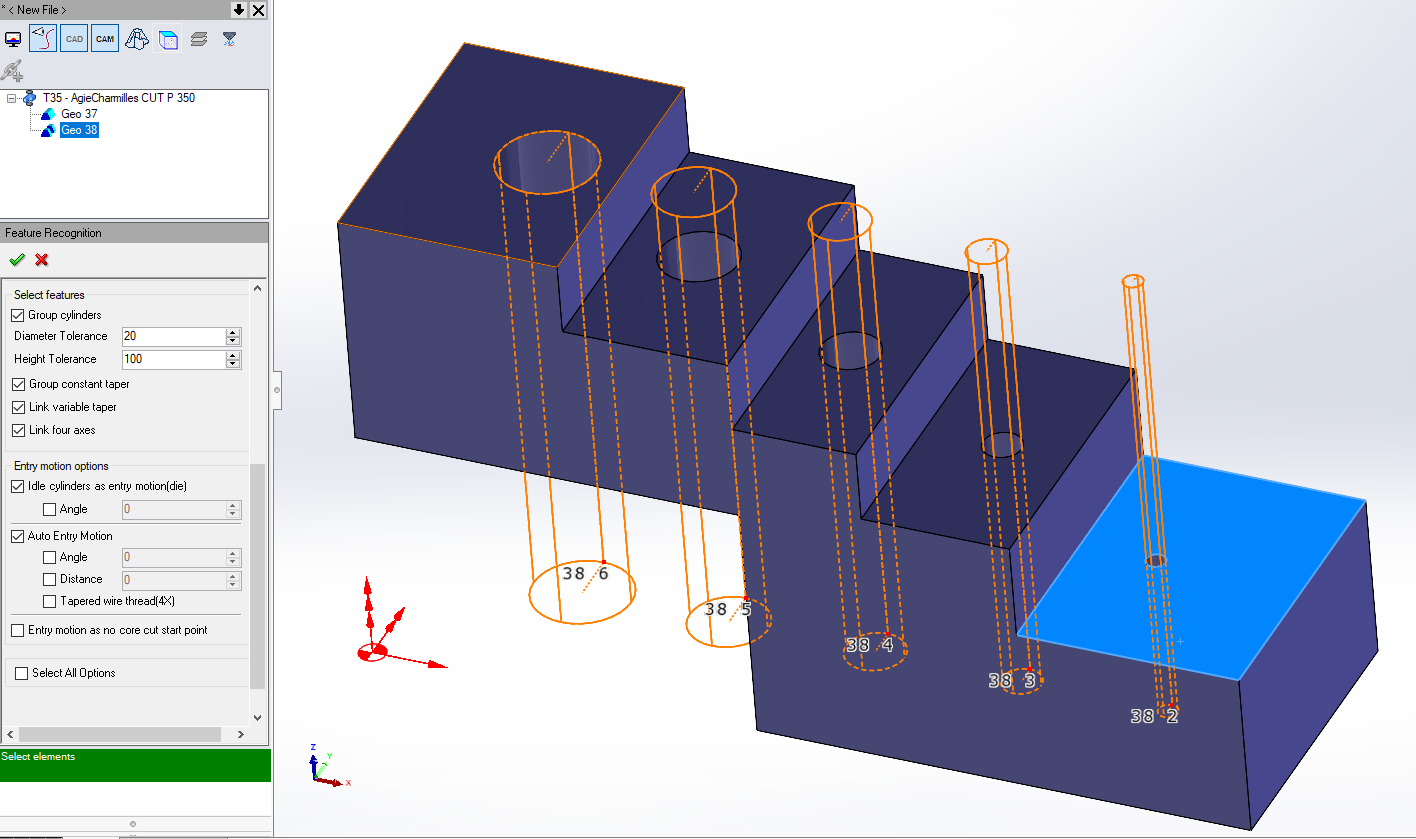 New grouping selection method for cylinders by height and diameter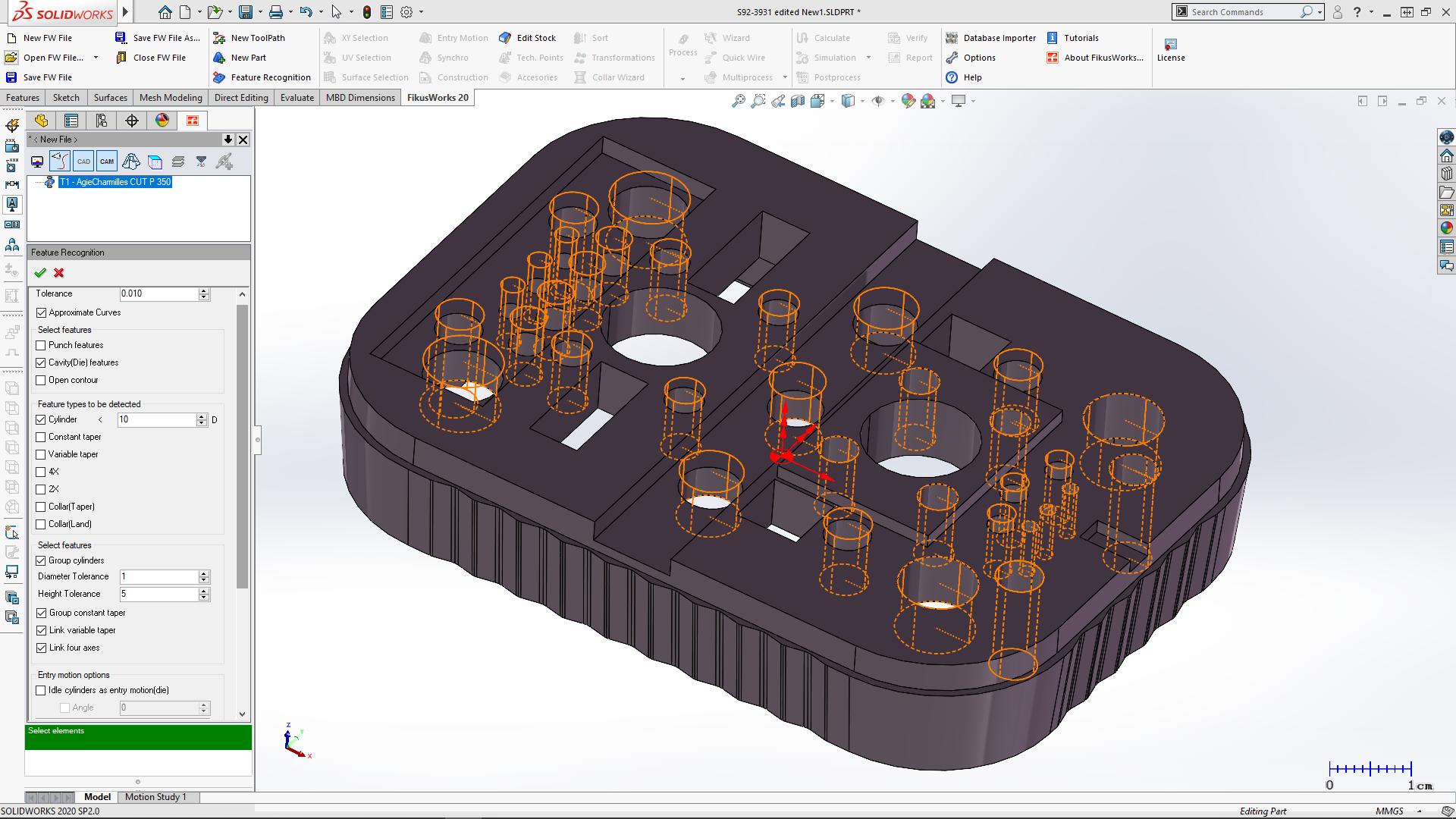 Automation modules
Optionally, FikusWorks offers the most advanced automation modules to reduce hand-made work and increase producticity, with functions for automatic remnant management, the slug welding that we can use as an alternative to conventional remnant cutting, automatic alignment macros to set the part position in the XY plane using the wire, or using the probe in 3D space, as well as positional cutting (indexing) using the rotary attachment.
New interface for threads and cuts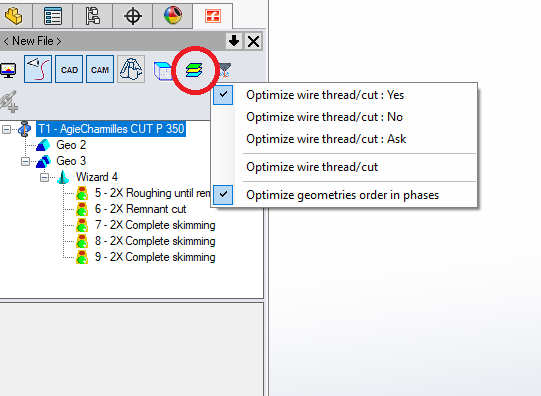 Continuous development
FikusWorks 20 has been developed to keep the most desired demands from the Wire Cut Industry: the efficiency and the accuracy. The optimal cutting strategies implemented in the post processors of this product will be the real strength for the users
Our collaboration with the most advanced machine tool manufacturers in the development of FikusWorks has made possible offer an intuitive, easy-to-use and easy-to-learn solution for Wire EDM designed to increase productivity and reduce the time to market.
Multi-origin definition function