Innovations and improvements in FikusWorks 24
Improved processes and algorithms for higher productivity
FikusWorks is the market-leading wire EDM CAM integrated into the leading SolidWorks CAD. Working for years together with the world's leading machine builders in this technology has put FikusWorks at the forefront of CAM solutions to get the most out of your wire EDM machines.
With FikusWorks 24 many improvements have been introduced to remain the reference CAD/CAM in wire EDM, the best choice, from CAD to on-machine machining.
New FikusWorks 24, the best CAM software for wire EDM integrated into the best CAD
Webinar
Video presentation of FikusWorks 24
Discover all the new features included in the new version
Access the video

Excellent for machining repeated geometries
With FikusWorks 24 we have sought to offer new levels of flexibility and productivity. In this version, the maximum efficiency in the machining of repeated geometries has been achieved. Geometry and path transformations are now very agile and allow easy programming of complex patterns, including polar transformations. The transformations reduce memory consumption and generate very lightweight machine programs; the improved method uses only one part, reducing memory and time usage, and supports an unlimited number of repetitions, which is useful for complex patterns or jobs.
More productive with less programming and machining time
FikusWorks' leadership is due to the advanced solutions it provides to users as a very intuitive and easy to use CAD/CAM. It has advanced wizards that allow programming the most complex geometries in just three mouse clicks or virtually automatically with Automatic Feature Recognition. This function is able to recognize any element that can be cut, such as punches, cavities, open contours, cylinders, constant and variable taper, 2-axis and 4-axis parts, etc..
Contour or surface selection is now up to 90% faster. This feature improves productivity and efficiency by reducing the time required to make complex selections.
The new 4-axis no-core cuts algorithm reduces on-machine machining time by up to 30%. This advanced technique combines 2X and 4X cutting to deliver higher cutting speeds and shorter on-machine machining times on complex parts.
High efficiency in the machining of repeated geometries is achieved through geometry and path transformations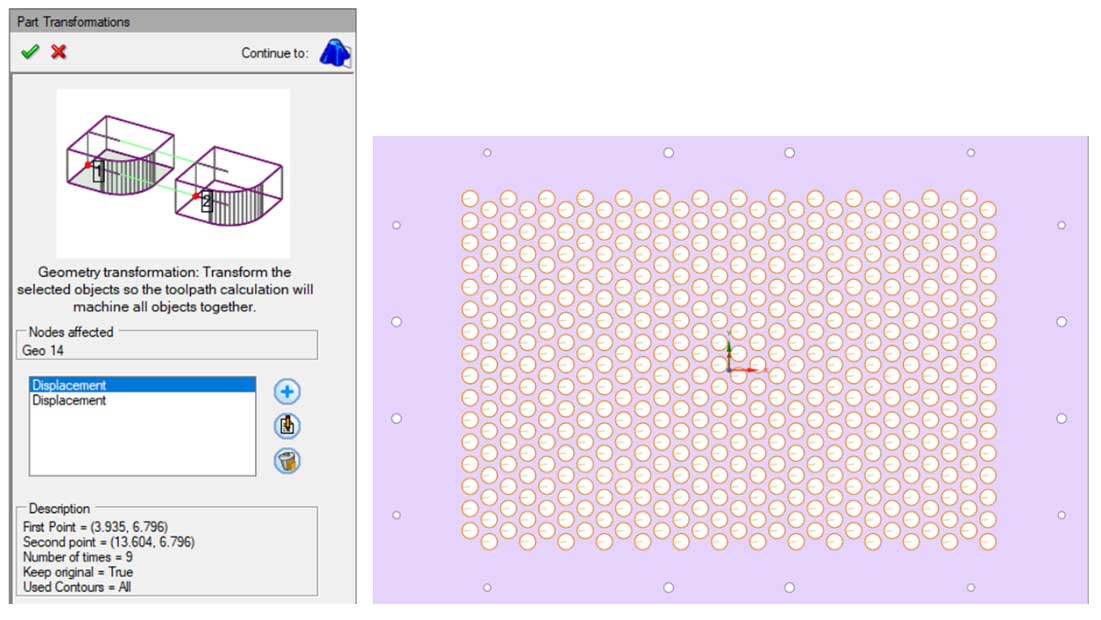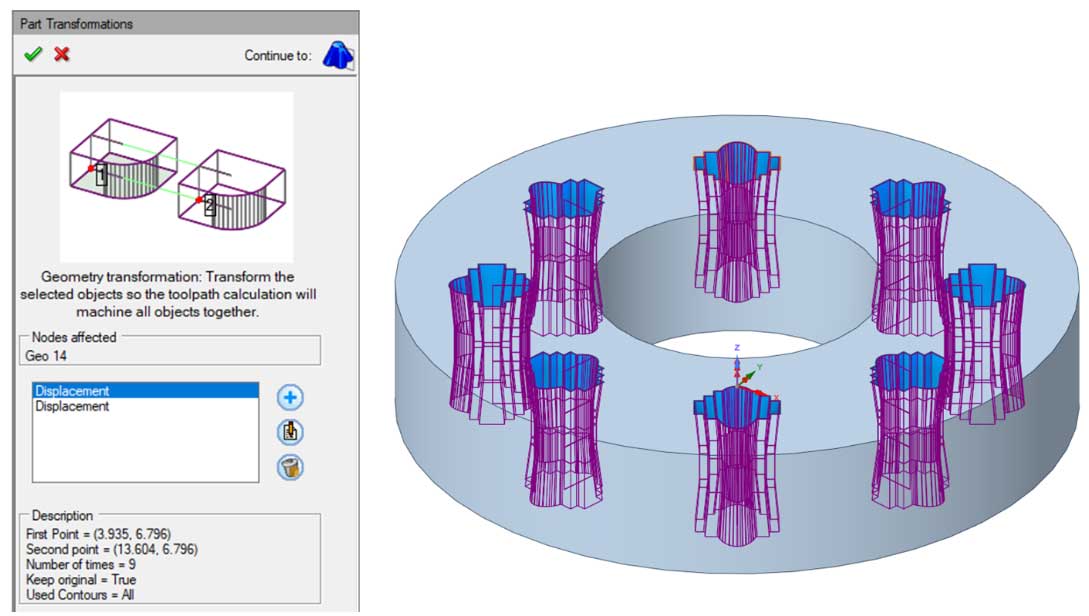 New simulation possibilities in wire EDM
FikusWorks 24 adds new possibilities to its advanced realistic simulation for wire EDM. It is now possible to compare the simulated result with the initial geometry. This option allows users to detect deviations and machining errors such as collisions. It also helps to optimize cutting parameters and strategies for different materials and geometries.
New type of part simulation models behavior during machining processes and helps optimize cutting parameters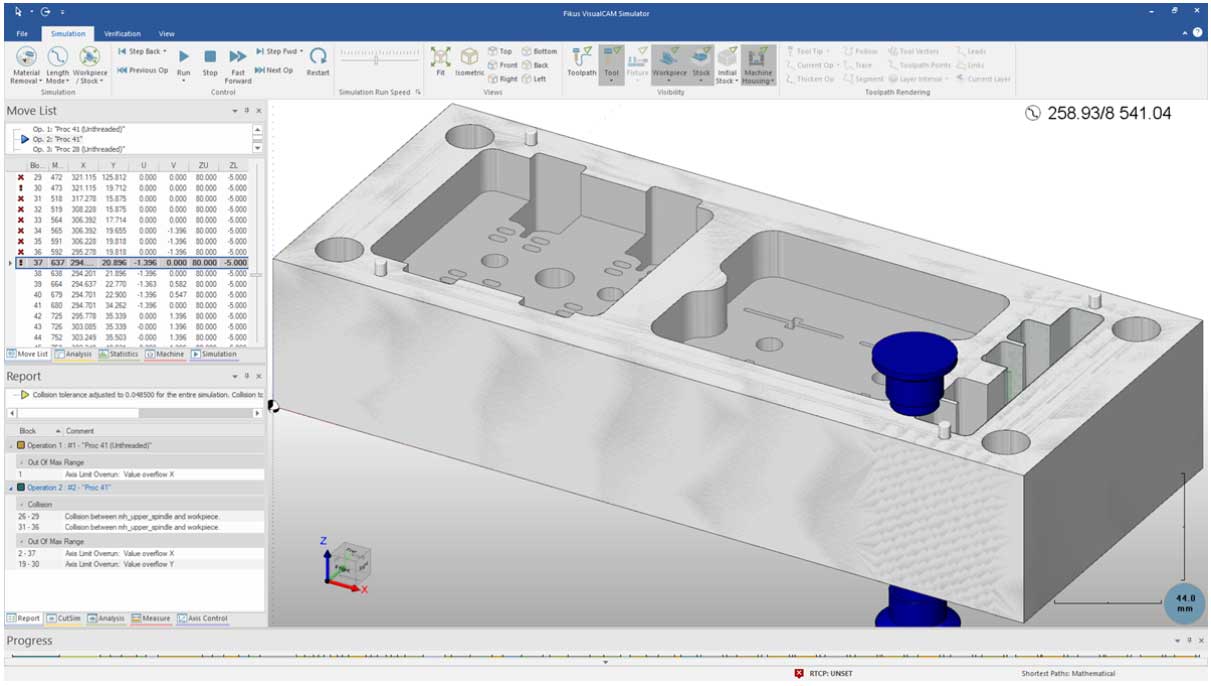 A complete solution for wire EDM, or an add-in for your Solidworks CAD
Complete solution
FikusWorks is available as a comprehensive CAD/CAM solution, in three different configurations to suit your needs:
SolidWorks CAD (parts-only) + Wire EDM CAM
SolidWorks CAD (Parts & Assembly) + Wire EDM CAM
SolidWorks CAD (Parts & Assembly & Drawings) + Wire EDM CAM
All the tools available in FikusWorks can significantly improve productivity and manufacturing time, such as specific machining wizards for different machines, templates, customizable databases or automatic technological points, which are available to make your work easier and more productive.
Machine technologies from manufacturers Like Accutex, ActSpark, GF Machining Solutions, Chmer, Fanuc, Hitachi, Joemars, Makino, Mitsubishi, ONA EDM and Sodick are implemented in FikusWorks with optimized technological tables and postprocessors. The programming wizards help to create the cutting sequence step-by-step and control all the machining parameters. Thus the Expert Knowledge helps to complete the programming process easily and efficiently.
Fully integrated add-in
FikusWorks 22 is also available as an add-in to integrate the best wire EDM CAM solution on the market into your Solidworks platform and start programming the machining immediately.
Once you have finished your CAD tasks, you can directly open the FikusWorks tab in the SolidWorks main menu and start working with the intuitive, easy to use and efficient FikusWorks CAM solution for wire EDM.
FikusWorks complete solution or fully integrated add-in in SolidWorks