Fikus Deutschland offers a complete package of CAD/CAM services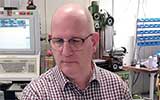 Article by Reinhold Deppe
Reinhold Deppe is the Managing Director of Fikus Deutschland. Experienced toolmaker and mechanical engineer, has large experience in the fields of manufacturing, milling and wire EDM. He knows the challenges of the industry from all perspectives.
Fikus Deutschland offers a complete package of CAD/CAM services in the German market, from Fikus software to training and process consulting.
What has become a standard in the German milling market - CAD/CAM software solutions for efficient and precise machining of workpieces - remains a niche product in the wire EDM field. Now, Fikus Deutschland has entered this niche with Fikus and its FikusSt, FikusPlus and FikusWorks products.
Fikus Deutschland, Metalcam's business partner, supports Fikus customers in Germany, Austria and Switzerland from Salzkotten (Paderborn district) with sophisticated software, but also with advice and training on the safe operation of these programs to achieve maximum efficiency and productivity in wire EDM. Consulting and training on the most efficient processes complete the range of services offered by Fikus Deutschland.
The head of Fikus Deutschland is Reinhold Deppe, an experienced toolmaker and mechanical engineer with many years of experience in the fields of manufacturing, milling and wire EDM. In the course of his professional activity, he has repeatedly attended training courses in the field of CAD/CAM and knows the challenges of the industry from all perspectives. In addition, he has been deeply familiar with Metalcam products for many years.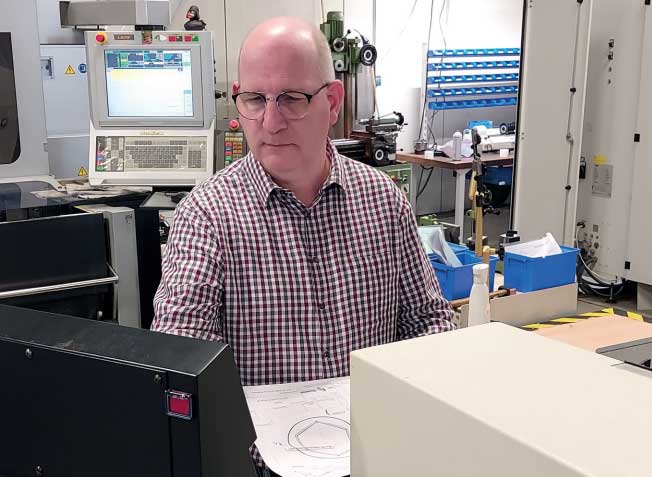 Advanced solutions
"Metalcam is always up to date, always aware of user requirements and machine manufacturers' innovations. All this practical experience is transferred to the development of the Fikus software", says Deppe. "At some point, a good opportunity arose to start my own business in CAD/CAM. Now we serve customers in the DACH region with Fikus Visualcam, from small two-man shops to medium-sized and large companies, the range of our customers is very diverse," reports the head of Fikus Deutschland.
Among its customers are tool and mold makers companies as well as precision engineering, electrical industry, medical technology, mechanical engineering and, last but not least, from the automotive industry.
Machine room simulation of the machining of a rotary indexing table with a single axis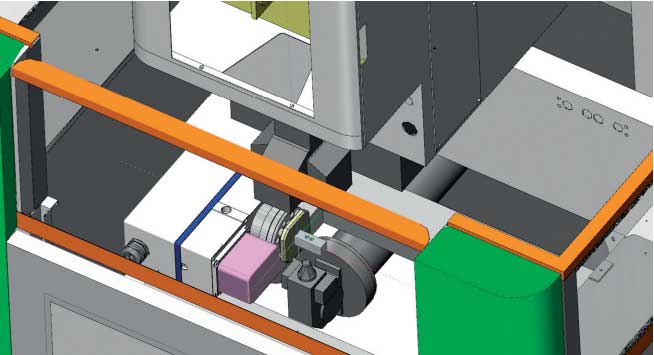 Optimal results in CAD/CAM machining
The problem for all these companies is that their wire EDM machines must be managed by the appropriate software so that they can get the full capabilities of each machine and can operate more autonomously and reliably.
"Good CAD/ CAM software is quite common for milling machines, but the wire EDM segment has been neglected for a long time. There were solutions, but they were either very expensive or did not meet the requirements because they were not designed for wire EDM, but had been developed for other technologies" Deppe reports. "The right software is necessary, however, so that wire EDM operators to prove their productivity and competitiveness and get the most out of their modern machines."
The wire EDM specialist mentions another problem: "Many smaller companies have not been able to afford their own 3D CAD software. But they could close an important gap by their own drawings and designs."
Step-by-step wizards facilitate work in Fikus. All editing parameters of a cutting sequence are easy to control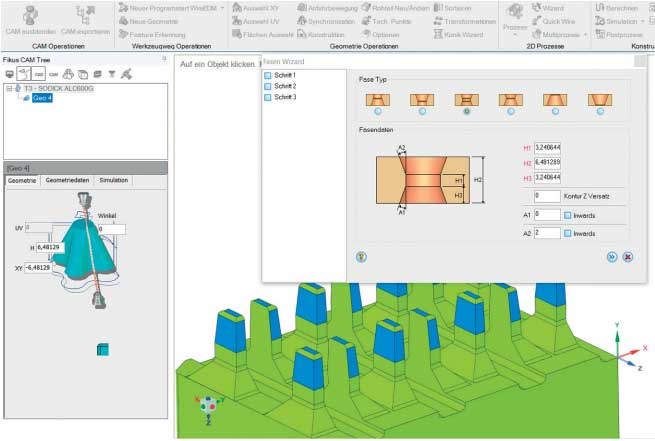 Problem solver for production engineering and toolmaking
This gap is now filled by the software offer of Fikus Deutschland. The beauty of it: Intuitive wizards as integrated assistants facilitate a step-by-step procedure for users.
FikuSt
The main product among the Fikus Visualcam products is the powerhouse FikusSt.
FikusSt is a special CAD/CAM system for the entry into EDM and milling. It contains a multitude of innovative software functions. With the interfaces provided, both 2D as well as 3D data can be processed. In addition, cutting technologies from all machine manufacturers such as AgieCharmilles (+GF+), Fanuc, Makino, Mitsubishi, ONA and Sodick are available. Automatic feature recognition and 3D material removal simulation provide the prerequisites for fast and safe programming.
Working environment simulating wire EDM toolpaths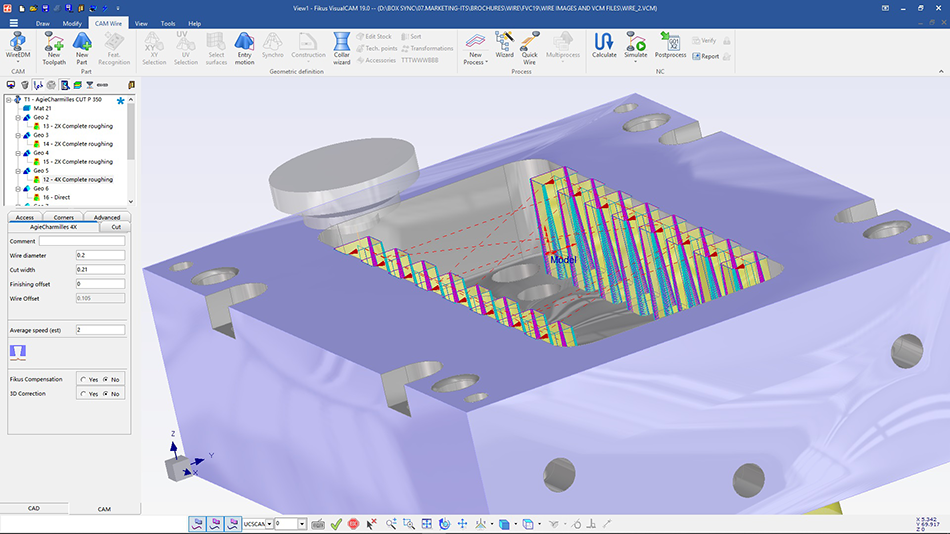 FikusWorks
FikusSt is complemented by FikusWorks, an efficient CAM software especially for wire EDM.
It offers effective solutions for CAD requirements, coupled with a well thought-out CAM solution for wire EDM. It is fully integrated with SolidWorks. The CAM Manager guides the the user through the logical from the definition of the geometry and the creation of the part to be cut, through the process definition, to the calculation and generation of the NC programs. The program also automatically provides meaningful documentation.
"The nice thing about working with the programs is that they all work similarly. If you know one, you can work with the others," says Reinhold Deppe.
FikusWorks: wire EDM CAM solution fully integrated in SolidWorks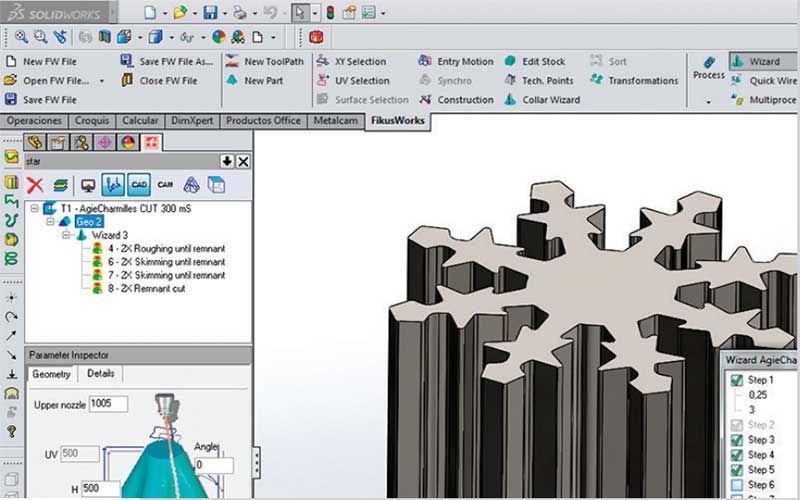 FikusPlus
The The third driving force of Fikus Deutschland is the software FikusPlus for wire EDM and milling technologies. It, too, was developed to provide the industry with an efficient CAD/CAM system: Highly productive, easy handling - independent of the origin of the data. The software enables the rapid creation, repair or modification of complex geometries as well as communication with customers. With its automatic feature recognition, FikusPlus detects all the features to be machined in a pair of mouse clicks.
Automatic detection and grouping of drills to be machined in FikusPlus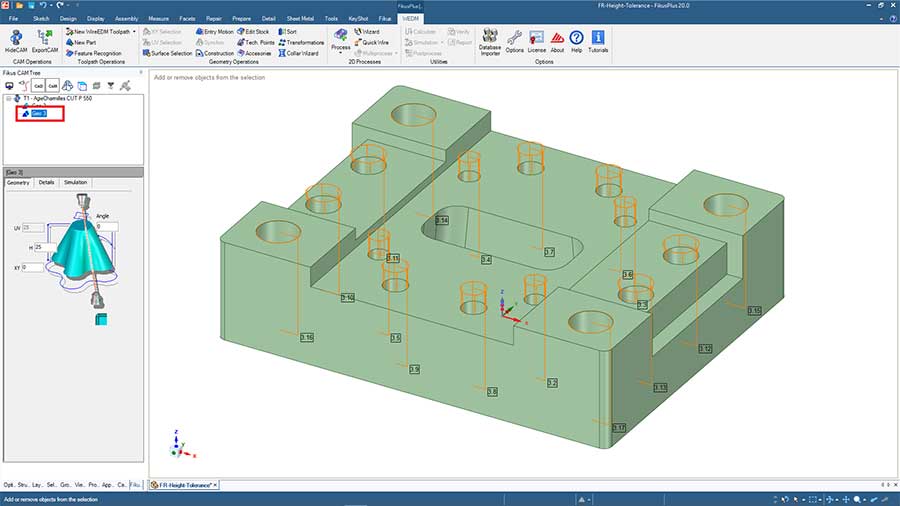 Training and consulting complements the technical equipment
So that these products can be optimal used by the user, Fikus Deutschland also offers its customers consulting and training with the new systems: "In order CAD and CAM software, the team must be well trained. We support our customers and show them how they can quickly and effectively right from the start get the most out of their machine," says Reinhold Deppe. "Numerous exercises on practical components as well as valuable tips and tricks from the trainers round off our training program."
Customized training
Fikus Deutschland offers individual training at its customers' premises. On site. In this way, the learned on the customer's own components and deepened on their own components. The machine is directly loaded with the programmed components via a GOLive. The introduction time is thereby considerably reduced and Fikus Visualcam is immediately after the end of the training productive and efficient in practical use.
Process consulting
In addition, we offer process consulting tailored to the needs of each individual customer: "Together with our customers we create step by step a thorough analysis of the operational processes, take a close look at the processes in the workshop, evaluate the results and advise on optimization possibilities and potential." Subsequently, Fikus Deutschland and its customers develope the implementation phase, so that employees to be more productive and more efficient.
Reinhold Deppe: "The success of my customers depends on various parameters. If you change parameters, potentials can be identified and measures can be can be initiated. My passion is to work with my customers to find out what these are and to implement them."
Step by step wizards simplifies working with Fikus. Easy to control all the parameters in a cutting sequence