Powerful and intuitive CAD/CAM to enhance the productivity of your shop floor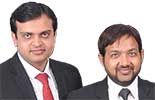 Article by Ashutosh Chitravanshi and Deepak Ambekar
Article written for Daily CAD/CAM magazine by Ashutosh Chitravanshi and Deepak Ambekar, Managing Director and Jr. Product Manager, respectively, of Metalcam Technologies Pvt. Ltd..
Metalcam is a market leader in shop floor digital solutions, that has been helping users to improve their CNC machine productivity for 30 years.
Selection of a CAD/CAM solution is a major game changer in the performance of any CNC shop floors. An easy to use and learn CAM in combination with a powerful CAD can be a boon for the CNC workshops, but this combination is rare, and has always been in demand by the shop floor industry. Metalcam has been pushing its limits by innovating and solving machining problems with its exciting product offering of Fikus Plus 20.
FikusPlus 20 stands as an intuitive, easy-to-use and easy-to-learn CAM solution. All the tools designed to increase productivity and reduce the time to the shop floor. This time we are glad to introduce you to the new solution for 2D Milling. so combined with our 3D Milling and Wire EDM gives the customer a really attractive solution.
This new release of FikusPlus 20 comes with a host of power packed features to enhance the productivity of your shop floor.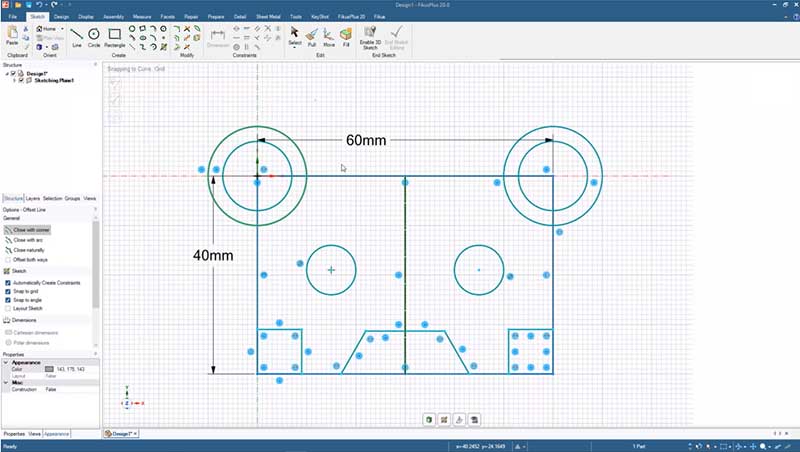 FikusPlus CAD
New version of the 3D CAD environment has been added with major improvements to help users to get the maximum efficiency in their designing jobs.
The translators have been updated to enable opening files from other CAD systems as: SolidWorks 2020, Solid Edge 2020 and Catia v5 R2020.
Sketch options now offer three Design modes like Sketch, Selection and 3D Model. It is very simple to build and design using the functions from the Sketch tab: Create, Modify, Constraints (Figure 1) and Edit.
Another new significant feature introduced is the Block Recording (Figure 2) which allows the user to easily edit the parameters of CAD geometries within FikusPlus 20. This new function captures the step-by-step feature creation and edits either starting with a new sketch or adding features. It gives high flexibility to design parametrically and permits the users to control history-based technology for quick design edits.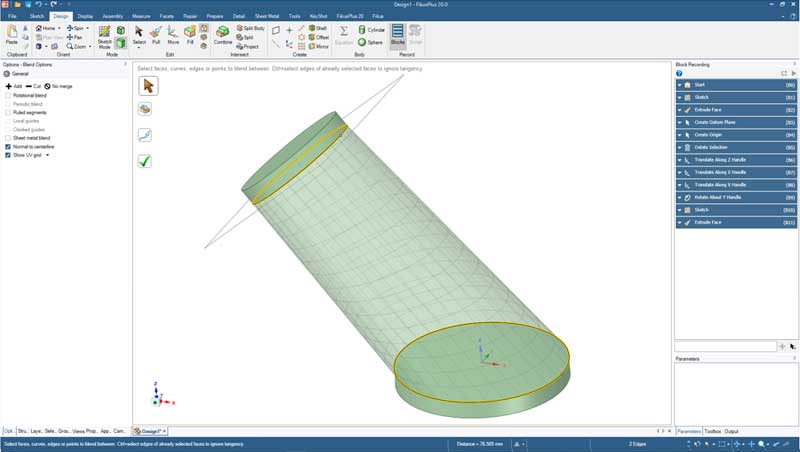 FikusPlus for milling
2D Milling technology
A new module has been added to the FikusPlus environment for 2D Milling technology, with an advanced algorithm for using the final stock in the calculation which can avoid the air movements of the tool and define the stock with the optimized programming. 2D Mill technology is formed of following processes Facing, Roughing, Profiling, Slotting and Drilling.
3D Milling technology
In the new release 3D Milling has become faster with additional functions that helps the users to achieve their goals.
The retracting of the tool has been considerably reduced with the new algorithm. This way the process time will be reduced and the time consumption will also decrease.
3D Finishing: In this process we have the new adaptive depth step that allows the user to use constant "z" values in straight walls and reduced down step in radius or draft angle in the same procedure. Moreover, establish the limit by the angle for the machining of the surface.
Project Contour: This function offers possibilities to project a 2D Sketch into a part surface as you can see in the figure 3. This option has been added to a part of the programming for single projection, the user can now apply an offset calculation. This option comes with a feature to use containment to limit the projection over the surface. All the tool path movements have been reduced to arcs instead of polylines. This allows in the machining smoothness and improving the performance.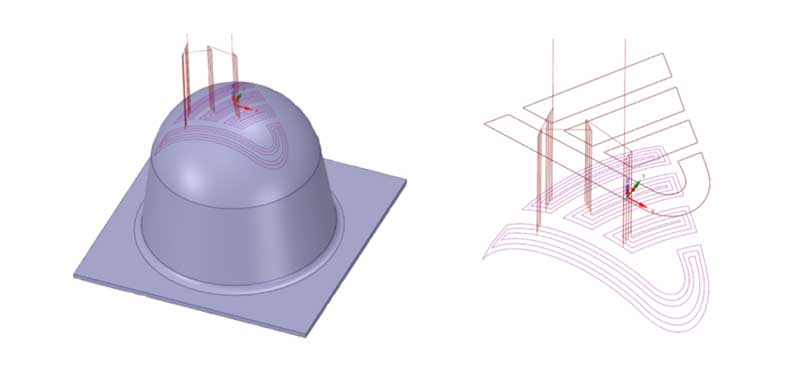 Automations to reduce cycle time
FikusPlus 20 has been designed to minimise human interference so as to improve the efficiency and reliability of the output. This new release will have two new automation routines, Feature Recognition (FR) and Drill wizard.
Feature Recognition: This is an advanced tool for Milling which simplifies the workload by detecting all geometries to be cut automatically in a single setup. This feature identifies the CAM geometries that need to be machined and brings it to the user in a matter of seconds from a 3D Model. It is a fully automated selection tool which identifies features like Bosses, Pockets, Drills and Slot. Refer figure 4 showing similar diameter/ height cylinders grouped together in the same colours.
Drill Wizard: This feature allows the user to quickly create all the groups and processes required to mill a large number of holes in a single model. This Wizard is especially useful if we often work with a set of defined templates (see figure 5).
The Wizard can logically identify those drills and apply a sequence of processes that the user has defined over all the similar drills.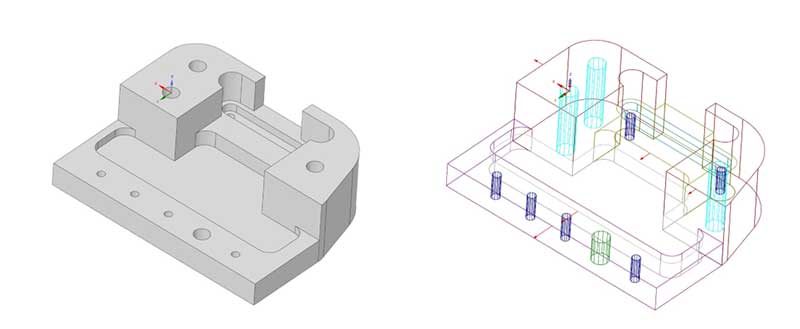 FikusPlus for wire EDM
FikusPlus 20 wire EDM solution is an easy to use shop floor solution which fulfils the need of tool-making, precision engineering, press & extrusion tool, mold & die industries and so on.
The new version is powered with specific machine assistants, templates, customizable databases or automated technology points, 4X from 2 contour synchronization, surfaces or construction support to facilitate usability and extract optimal performance from the wire EDM machines.
The programming Wizards offer to create the cutting sequence step-by-step and control all the machining parameters. Thus the expert knowledge base helps to complete the programming process easily and efficiently.
Machine technologies from dozens of machine manufacturers are implemented in FikusPlus 20 with optimized technological tables and postprocessors. The programming Wizards make handy the expert knowledge base that facilitates to complete the programming process easily and efficiently.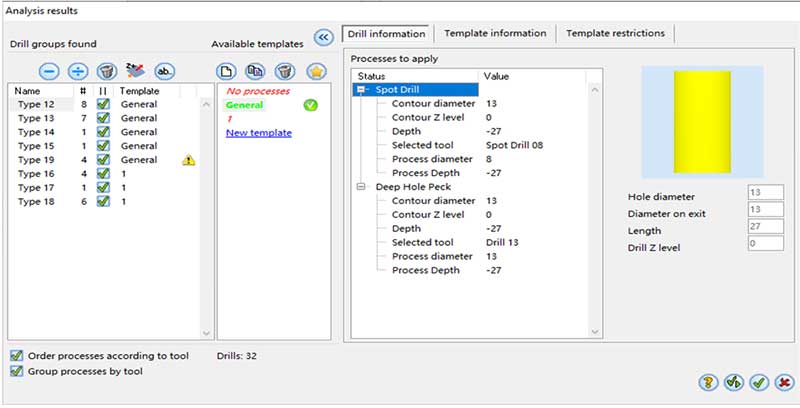 Enhancements for wire cut CNC users
Feature Recognition was already included in the previous version of FikusPlus, however, this latest version will be providing a face lift to this valuable FR functionality by giving options to group cylinders/ contant tapers according to diameter/ height. These options are useful in setting the same cutting conditions for the whole part using groups based on diameter or height or both, thus giving additional selection facility to the users.
Surface selection has been advanced in a way that proposes available wire cut surfaces to select during split / multi-face options conditions. In addition, it provides smart alternate options for leading and trailing edges when multiple edges are involved, which only need to be selected by the user for cable movement. Facilitating quick and reliable selection.
Multi-origin. This option enhances the feature of programming multiple jobs/ parts which are clamped together in a single setup. This enables users to define work coordinates for different origins. Thus with a single generated program with codes like G54, G55, G56 and so on (according to the machine manufacturer) multiple jobs/ parts can be machined.
Automatic order by phases. In the FikusPlus 20 the steps have been reduced to jump to order by phases. Now the user will click once to access the functionality of order by phases and automate the optimization threads and cuts.